Motherwell crash out of the Europa League with 3-2 extra time loss to Stjarnan.
Quite where this ranks exactly on the list of miserable defeats, European or otherwise, is not certain. If Stjarnan make an impact on the tournament, or if it turns out they have a clutch of international stars in the making, there will be some mitigation given retrospectively.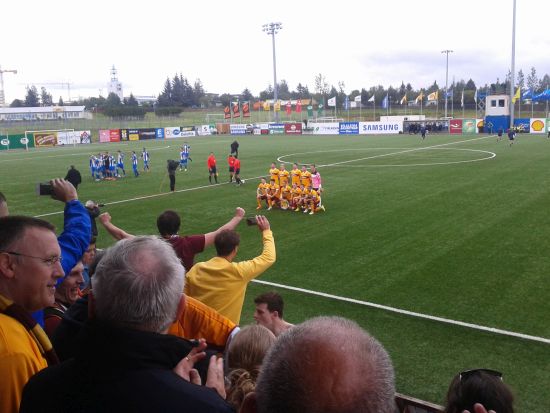 But otherwise it is hard to see this as anything other than yet another pathetic cup exit in which our caution was deservedly punished by those willing to seize the day.
The heroics of St Johnstone and Aberdeen, against much tougher opposition, put this result into devastatingly clear perspective.
Johannsson drilled in the winning goal in the 113th minute to leave us searching for excuses which simply weren't there.
In regulation, Rolf Toft sent the game to extra time by finding the top corner from the edge of the box with just five minutes remaining. This cancelled out Lionel Ainsworth's 67th minute volley which had swung the tie in our favour.
Stuart McCall had named the same team as fielded last week which meant Sutton started as the lone striker with support from Ainsworth, Law and Vigurs.
Initially that decision was vindicated by a positive start and after a number of set pieces, an early breakthrough was made. Reid won our third corner and from Ainsworth's centre, Hammell found space alone in the box and he guided home an uncharacteristic headed goal in the 10th minute
Lasley shot wide from a corner routine but as the half wore on Stjarnen came back into proceedings. An equaliser was not undeserved and after Toft headed off target and Hammell made an important block, we were undone by a third penalty in the tie.
Once more it was Lasley who did the damage, fouling Johansson, and Finsen inevitably converted from 12 yards.
Both sides had chances but in an alarming move – suggesting nothing has been learned from last week and the latter half of last season – we decided to shut up shop with 15 minutes remaining. Kerr and Angol replaced Ainsworth and Law as we challenged the hosts to break us down.
Predictably with our defence they did just that and we started extra time with an eleven which contained virtually no attack.
Sutton and Vigurs were our only two genuinely attack-minded players on the pitch at this stage. A knock to Carswell meant Leitch was required as a replacement so McHugh and Erwin saw out the game on the bench.
Lasley and Sutton had shots saved by Jonsson but it was Stjarnan who found the winner. They earn a tie with Lech Poznan in the third qualifying round.
For us, we can complain about bad luck - conceding three penalties, while having one denied at Fir Park is unfortunate. But really we merited no better with a shambolic defence and squad which - like half of last season, critics would say - clearly is not fit enough.
Stuart McCall has dug himself, and us, out of holes before and he needs to find a massive improvement before the SPFL starts at home to St Mirren on August 9.
Thursday 24 July 2014
Starnan 3 Motherwell 2 AET (Starnan win 5-4)
Team: Stjarnen: Twardzik, Reid, Ramsden, McManus, Hammell, Carswell (Leitch 95), Ainsworth (Francis-angol 74), Vigurs, Lasley, Law (Kerr 74), Sutton
Attendance 1,022