A first half goal from John Sutton was enough to give Motherwell a narrow win at Tynecastle and deliver a sixth consecutive win. The team is due tremendous credit for the productive run and the result maintains our challenge for second place.
The game should have been sewn up by half time as we pressured the home goal time and time again but we had to wait until 40 minutes for the breakthrough. The young Hearts team are due praise for the attempted come-back in the second period but we kept the clean sheet to secure the points.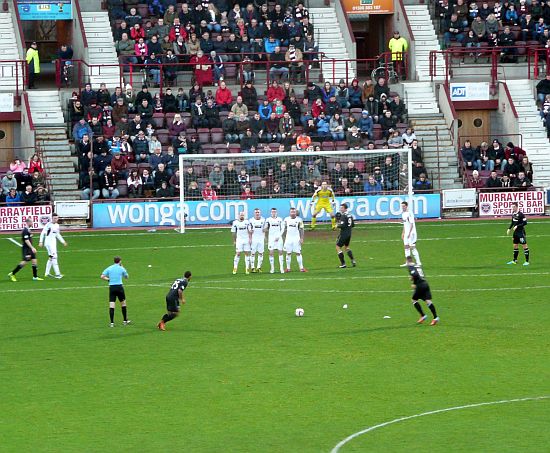 With Twardzik back at Dundee Nielsen returned along with McFadden. New signing Anier had to watch the kick-off from the bench. We had the unusual sight of Motherwell in all black against Hearts in all white as the home side kicked off attacking the Roseburn end that held a healthy away support.
The early pattern was set in two minutes when Faddy set up Ainsworth on the right. The low cross caused a panic and McGhee almost put into his own net. Ainsworth was in great form in the first period and he could (should) have scored two or three. His pace and ability to cut infield proved to be an effective weapon.
McFadden's touch provided both Vigurs and Ainsworth with good opportunities and shots from the outside the box threatened to start the scoring. We had to wait until five minutes from half time to find the net. Vigurs sent a long pass down the left wing for Sutton to chase. MacDonald was drawn from his goal but our man escaped his attention and that of a defender to fire home from a very tight angle.
The travelling fans were entitled to hope that the floodgates might open in the second half and that their inexperienced opponents might crumble but that was far from the case. We had several scares and Nielsen was called into action too often to ease our concerns.
Ainsworth continued to be the likely source of the second goal. Vigurs produced a wonderful pass to let the winger run to the box but the keeper stood firm. Later, he squared a low drive across the face of goal but there were no takers. But those chances were rare moments of relief as Hearts looked the more likely to score. Smith and Stevenson tested Nielsen but despite a few nervous moments we held on
Anier was one of three late substitutes and he got a rousing reception following his agreement to join us on an extended contract. Francis-Angol and Lawson alson came on as McFadden, Vigurs and Ainsworth made way,
It was not the most convincing of what will become a famous six game winning run but it will surely ensure that we visit Parkhead next week with some ambition.