Motherwell cantered to a comfortable 3-0 win over a woeful Hamilton side to end the league season in seventh place. A double from Ciftci was followed by the third from Aldred to leave the home support cheering their heroes on ahead of next week's cup final.
This was a one-sided encounter in the bright May sunshine that delivered the perfect tonic as many first team regulars were rested before the season finale at Hampden. There were eight changes from the victorious midweek starting eleven at Firhill in midweek but any thoughts that the shuffle would cause us any discomfort soon disappeared.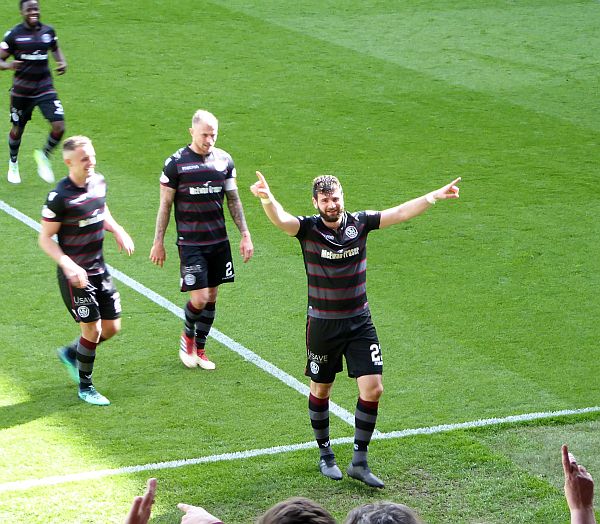 The visitors were forced to defend for almost the whole of the first half and any incursions towards Griffiths ended with over hit crosses. Our back four of Tait, Maguire, Aldred and Hendrie strolled through the game and spurred on by Bigirimana, MacLean, Turnbull and Grimshaw in the middle our forwards soon began to put Fulton's goal under pressure.
Grimshaw set the tone with a blast into the South stand in the first minute, the ball almost reached the 500 Accies fans who were housed in the upper tier. Turnbull and Ciftci tested the 'keeper before the opener in 23 minutes. Tait's cross was headed on target by MacLean and Ciftci was on hand convert Fulton's block.
There was no hint of a comeback from Accies as the game continued in the same direction. Aldred should have scored before the break when Turnbull's corner found him but the ball flew high when it looked easier to score.
There was a bit more fight from Hamilton in the second period and for half an hour the game ground along with little incident but immediately following the substitution of Hendrie for Kipré was scored the second. Ciftci seemed to stumble beyond a couple of defenders before taking a further set at the angle of the six yard box to poke home.
The applause has hardly died before Aldred popped up to fire into the net at the far post after Tait knocked on Bigirimana'a free kick.
We were in easy street and gave a debut to Liam Brown for the final 15 minutes. He did well as did Maguire and Turnbull as our next generation gains experience.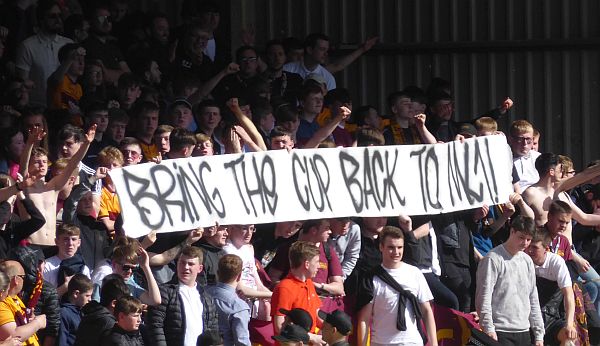 Ciftci almost bid us farewell with a hat-trick but his 20 yard effort rattled the bar.
The final whistle gave both sets of players a chance to thank their supporters but the 'Well Bois banner asking the team to bring the cup to ML1 struck the right note as we wish the team well for the final.
Motherwell 3 Hamilton 0
Attendance 4,699 (527)
Team: Griffiths, Tait, Hendrie (Kipré 69), Grimshaw, Bigirimana, Frear(Petravicius 60), Aldred, Ciftci, MacLean (Brown 73), Turnbull, Maguire
12 May 2018