It's a cruel game. Motherwell scored three against Celtic but managed to lose the game 4-3. It was a bitter blow for McGhee's team given they had a two goal lead at the break.
Two first half goals from Moult put us in the driving seat but the early concession in after the re-start gave the visitors the momentum. A frantic spell midway through the second period produced three goals in as many minutes to set up a nailbiting finish at 3-3. Rogic found the net with 90 minutes on the clock to take all three points.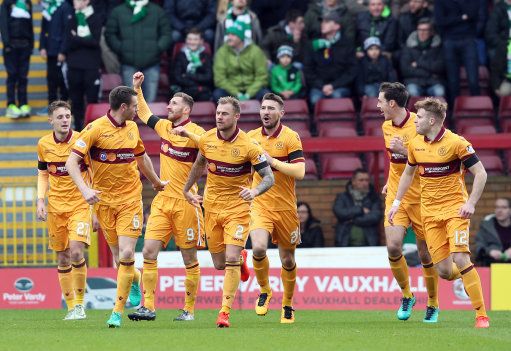 A happy Louis Moult enjoys his goal
Hammell and MacLean joined the starting eleven with McMillan and Ferguson relegated to the bench.
We got a fairytale start. The stadium clock was at two minutes when Moult delivered a sublime lob over Gordon for the first of the afternoon. It gave a huge boost to Motherwell and a belief that they could match the visitors. Cadden probed on the right and MacLean pushed on the left and a few half chances were created.
Celtic had the majority of possession but we got men in place and defended well. Samson had no saves to make before the break. MacLean robbed Lustig wide on the left and dispatched a well placed cross to Moult. The striker volleyed us into a two goal lead.
McGregor halved our lead with a well placed shot to Samson's left. Plans for a safe start to the second half were blown and we were on the back foot. McDonald managed a shot on target after an hour but that was a rare venture to Gordon's area.
An incredible three minute spell followed and the score flipped from 2-1 to 3-3. Roberts' back post header levelled the contest but we pushed back with a Hammell cross that found Ainsworth free to volley us back ahead. No sooner had we resumed than we conceded again. This time Armstrong's shot beat Samson – it was a poor defensive slip.
There followed a twenty minute barrage when Celtic camped in our last third. Rogic came up with the shot that robbed us of a deserved point as the game entered injury time.
It was a great effort from Motherwell, especially in the first half. If nothing else it shows that the team is capable of playing fine football at times. If we keep the same style going against Kilmarnock next week we should get the reward we deserve.
Motherwell 3 Celtic 4
Attendance 8,535
Team Samson, Tait (Bowman 91) Hammell, Heneghan, McManus, Moult, Cadden (Ainsworth 68), Lasley, Clay, MacLean, McDonald