A fine three points returned to Motherwell after a convincing victory in Paisley. Two excellent strikes from David Turnbull and Chris Cadden were enough to win the game.
Motherwell kicked off with their backs to the drookit away fans who were delighted with the early pressure shown by the team in claret tops and shorts. Bigirimana, McHugh and Grimshaw were added to the midfield and Tait took up the left back position in a 4-4-2 shape.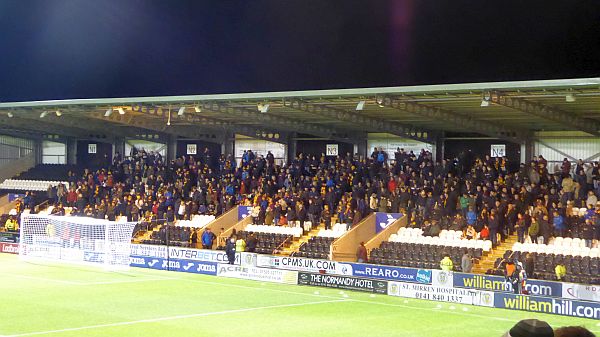 Happy Motherwell fans at half-time
An early corner was soon followed by a nice move between Grimshaw and Cadden that delivered a half chance to Main but the game was soon reduced to a scrap between two teams more concerned about avoiding mistakes than creating forward going opportunities.
Hammill tested Carson with a shot following a short corner but our man held easily. We had yet to test Samson at the other end but that changed after half an hour when Bigirimana stole the ball and fed Turnbull. The tall midfielder took a few steps forward then unleashed a powerful low drive from 20 yards that squirmed under the 'keeper and into the net. It was his first senior goal in his second league start of the season.
The rain stopped as the second half started but it seemed like a burst of sunshine had arrived after just two minutes. Cadden and Main exchanged touches at the edge of the box before our number seven took aim and placed a left footed shot to Carson's right corner. The Motherwell crowd joined in the celebrations and we were two up.
The goal did nothing for the home team's confidence and we pushed for more. Main blasted high when he should have hit the target then Edwards was booked for a blatant dive in our box.
The game was for the most part in the St Mirren half. We were in control and when possession was lost we pressed high to smother any threat. The home team's woes increased when Flynn was awarded a straight red card for a frustrated kick. Campbell and Johnson joined the happy band as Bigirimana and the tireless Main made way.
The win was well deserved and with any luck the margin could have been more emphatic. A first home win of the season on Saturday would be an ideal follow up.
St Mirren 0 Motherwell 2
Attendance 4,001 (757)
Team: Carson, Hartley, Cadden, Tait, Aldred, McHugh, Turnbull (Maguire 89), Main (Johnson 81), Bigirimana (Campbell 71), Grimshaw, Bowman
Wedesday 31 October 2018