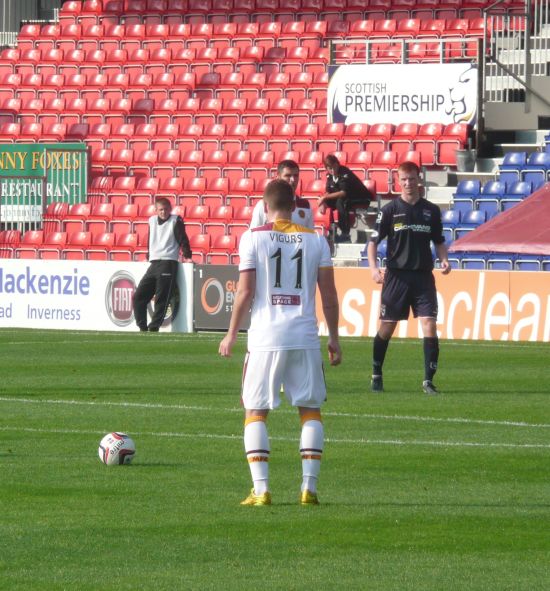 Vigurs scores!
Returning players gave manager McCall a chance to freshen the stating eleven and he introduced Ramsden, Erwin and Vigurs as the home team kick off with the sun at their back on a perfect autumn day.
Law had the first chance with a 20 yard effort just off target but County soon took charge and for most of the first period they looked more likely to score. Our big striking pair were too easy to use as targets when the defence was in trouble and we relied on many long balls as a preferred option.
Cardle on the left wing gave Ramsden a hard time and the winger was awarded the man of the match award by the home sponsors. We had to endure a series of corners, set pieces and crossed balls and Twardzik was kept busy.
As the first period drew to a close we came into the game and for the first time it looked like we may score. A corner from Vigurs was flick on by Erwin forcing Quinn to head clear on the line.
The game was won inside the opening ten minutes of the second half. Erwin was fouled some 30 yards from goal just right of centre. Vigurs waited until the defensive wall was placed then curled a peach of a shot into the postage stamp corner with Reguero flapping in vein.
Better was to follow. Again Erwin provided an importrant part when he won a long punt to the edge of the box and knocked it back to Sutton. The striker chested, settled and launched a 30 yard dipping effort over the head of the 'keeper. He and his team mates ran to the small band of Motherwell fans at the far corner of the East Stand.
County's new manager then wrang the changes and all his substitutes were fielded. It was one of those, Boyce, who won the scramble for a low driven cross to bundle the ball over the line from a yard. It was all hands to the pumps in the closing stages but we held on for a fine away win.
The long trek home was shortened considerably with three points on board.
Ross County 1 Motherwell 2
Attendance 3002
team: Twardzik, Reid, McManus, O'Brien, Ramsden, Law, Lasley, Lawson, Vigurs, Erwin, Sutton