Thomas was the creator and Sutton the scorer as the ten men took the game to the Saints in the second half. The move was easily the highlight of an otherwise dire performance from the home side and the visitors will be kicking themselves as they were unable to maintain their early lead.
The optimism that arrived with news of the club's transfer of ownership was soon gone as the game got underway. Fans had the chance to thank John Boyle for his stewardship before we kicked off facing the 233 travelling fans in the South Stand.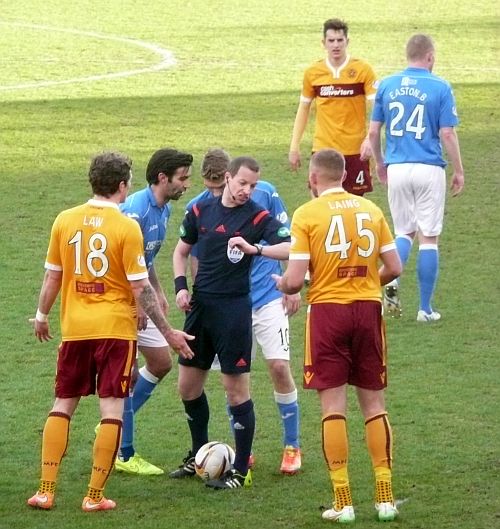 Early bath for number 45!
Ramsden wore the captain's armband and he took station ahead of Watt, O'Brien, Laing and Reid. Straker was at left midfield. The patched up back line looked unsure from the start and it took only eight minutes for our opponents to take advantage. Kane opened up our defence with a ball that allowed Davison time to place the ball to Twardzik's right.
The little atmosphere inside the ground evaporated as we struggled to get any kind of control of the ball. What seemed to be a deadly blow came after 25 minutes when Kane and Laing chased towards our penalty area. The big centre half used his strength to knock the forward with his shoulder and to the astonishment of most of the crowd the referee reached to his pocket to show the red card.
It seemed that any hope of a revival disappeared down the tunnel with the defender. Law moved to left back and Reid filled in to partner O'Brien. We reached the break without further loss and without troubling Mannus.
O'Brien didn't make it out of the changing room after the break and Kerr stood in. The game followed the same pattern as the first half. We were awful but St Johnstone had been knocked from their game plan by the sending off and we drew strength from their unwillingness to go for the kill.
A few deft touches from Straker raised a cheer, Erwin charged down the wing to deliver a tempting cross and there were signs of a recovery. Thomas replaced the toiling Watt and the game turned. Ten minutes later we had a fine shot on target from the substitute and the home fans were roused further. Moore replaced Carswell and we started to string passes together.
The goal was a fine demonstration of Thomas' talent. He was in midfield surrounded by three blue jerseys yet he escaped their clutches and passed to Sutton who was loitering at the edge of the box. After a few strides the striker let loose and the ball flew to the net.
The point earned ended the run of five defeats and will be gratefully accepted. It will be a sad team bus that makes its way home to Perth.
Motherwell 1 St Johnstone 1
Attendance 3,449 (233)
Team: Twardzik, Reid, Carswell(Moore 69), Ramsden, Sutton, O'Brien (Kerr 45), Law, Erwin, Watt(Thomas 68), Straker, Laing