The ball took a lot of punishment as both teams seemed to find it difficult to exercise control on the hard surface.Our defenders spent the game lumping the ball up the park to Foran and Hamilton.They would get a touch, lose it, and the Dons defence then punted back into the other half.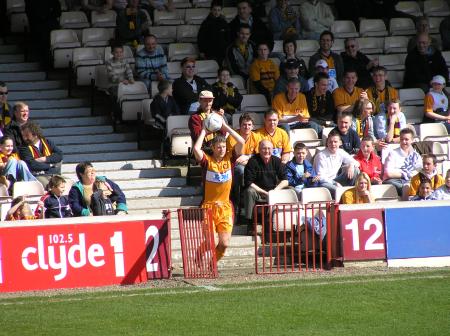 Craigan launches another one from the East Stand

Craigan was everywhere.He took lots of attacking throw-ins and shelled the ball high into the box, cleared his lines when required and made a few last gasp blocks to protect the goal.Kerr made a few runs and it looks like his sharpness is returning.


Fagan had the first chance of note.He found him self in possession, twenty yards out and unmarked but he seemed to freeze and could only manage a weak effort on Esson's goal.Hamilton then had a lash off target and a Kerr attempt from twenty yards was tipped over the bar.


The Aberdeen scored what turned out to be the only goal of the game just after the half hour.Whelan set up Mackie with an easy header inside the six yard box at the South stand end.Our only response before the break was a curling effort from Foran which came close at the postage stamp corner.


As we pushed the visitors back in the second spell we risked punishment from attacks on the break.We were lucky not to concede a second goal on a few occasions.A last ditch block from Craigan saved one and a bad miss from Clark prevented another.


Young Keogh replaced Leitchfor the last ten minutes but despite a late flurry we were unable to find the net.


We set off to Tynecastle next week but the chance of beating the Maroons for the fifth time this season must be very low unless several of the injured players recover.John Porteus may be the most important man at the club this week.