Baraclough started the same eleven that lost to Hearts in midweek with Moult taking on the challenge of the big visiting defence. McDonald gave him backing and we relied on Ainsworth and Johnson to deliver from the flanks.
It all started well for the claret and amber. Ainsworth fed the ball to McDonald from the right wing and the striker fired at the South Stand goal. Ward could not hold the shot and Johnson finished the move with a volley.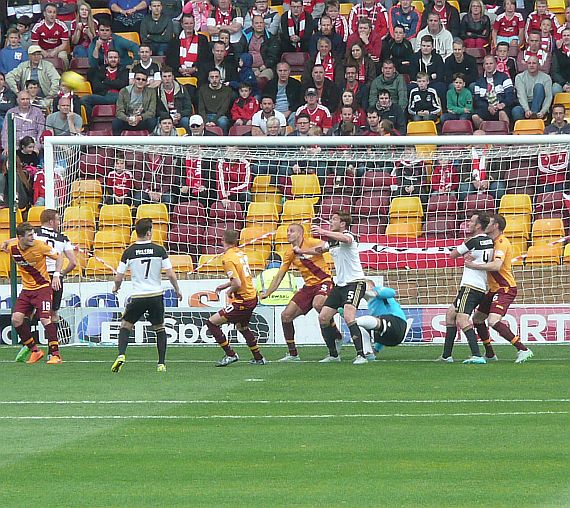 Ripley goes down well before Taylor heads the winning goal
The threat from the Dons was also evident in the opening exchanges. Logan should have done better with a header that was fired at the 'keeper and McGinn's curler shaved the far post. The equaliser arrived after 24 minutes and it was a soft one to concede.
McGinn was outside the angle of the box and fired the ball on the diagonal of the six yard area. It had no great power but it passed though a sprinkling of players, struck the post and rolled into the net.
Taylor came close with an attempt at the top corner then Law tested Ward with a 25 yard free kick but interval came with the teams level. Rooney replaced Flood as we kicked off.
Ripley was the busier 'keeper. Goodwillie gave him an easy save when the goal was gaping but we came close when Johnson's cross gave McDonald a chance but his attempt was wide.
The winning goal came in the 63rd minute. McGinn floated a high ball into the box from a free kick on the left touchline. Before the ball reached the head of Aberdeen's Taylor, Ripley was on his backside and unable to do anything but watch our chance of a point disappear.
The inevitable substitutions followed. Johnson, who must have gifted possession to the opposition a dozen times, was replaced by Thomas; Clarkson made his third late appearance for Moult and with two minutes left Cadden replaced Taylor. Thomas took station on the right wing and promptly turned some Aberdeen defenders in circles.
Our third defeat inside 8 days means that we have taken three points from four outings and now our upcoming fixtures against St Johnstone and Kilmarnock take on a greater significance.
Motherwell 1 Aberdeen 2
Attendance 5,437 (1,674)
Team; Ripley, Law, Laing, McManus, Hammell, Ainsworth, Lasley, Taylor(Cadden 88), Johnson (Thomas 68), McDonald, Moult (Clarkson 85)