Motherwell suffered a humiliating 7-2 defeat as Aberdeen punished woeful defensive errors. Four by the break had the game dead and we can only be grateful to avoid a double digit embarrassment.
A much altered Mothwell side soon found the game plan in tatters as defensive mistakes were punished. Ainsworth, McHugh and Jules were the lucky ones who avoided the rout as Frear, Lucas and Pearson were given starting places.
The first of four first half goals arrived in two minutes. Hammel was overpowered at the far post and McManus failed to clear under pressure from Rooney. The ball fell to Hayes on the right of Samson's goal and he fired into the net.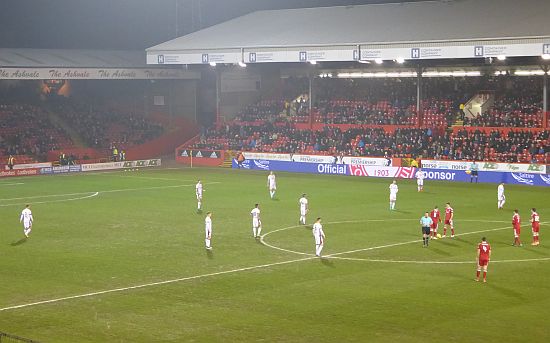 Lambs to the slaughter
We pushed up and had a couple of lobs into the Aberdeen area but the home team soon took total control. They scored three in the last fifteen minutes of the half and the men in white trudged into the dressing room wishing that they could climb into the team bus. Goals two and three came after comic cuts defending. A powerful downward header from Considine and the inevitable close finish from Rooney had some of the 150 'Well fans hitting the road.
The fourth was a decent curler from Christie from the edge of the box.
It was a shambles.
Lucas, already booked, was replaced by Bowman for the restart but nothing improved.
The manager managed to get himself sent to the stand and narrowly avoided getting kifted by one of Aberdeen's finest!
Frear was harshly penalised and a penalty was awarded. Rooney made no mistake. The winger had hardly had a kick in his hour on the park and was switched for Clay. Within a minute Rooney bundled a corner over the line for his hat-trick and their sixth.
Bowman popped up to convert a free kick with a decent header to grab a token consolation..6-1. And a further cheer came from the away stand when Pearson smashed home Hammell's corner.
The cheer had hardly ended when we conceded number seven. Pawlett finished the break as he rolled the ball under Samson.
Aberdeen 7 Motherwell 2
Attendance 10,384
Team: Samson, Tait, Hammell. Heneghan, McManus, Moult, Cadden, Lasley, Frear (Clay 64), Lucas (Bowman 45), Pearson