There was little between the teams and the visitors will feel they were due at least a point for their efforts but Erwin pounced after Ainsworth's strong shot was parried and the only goal gave us the victory. The sponsors gave the man of the match award to Law but many felt that Twardzik's excellent display in goals deserved the honour.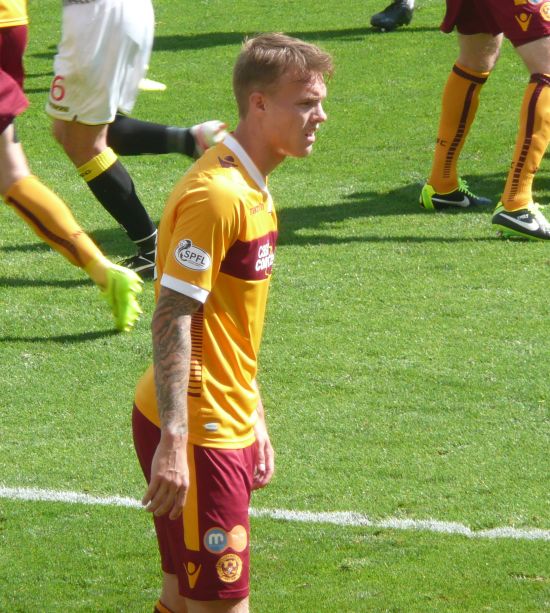 Our patched up side lined up with an unfamiliar back line of Reid, Kerr, McManus and Francis-Angol with Ainsworth, Carswell, Lasley and Law in midfield. Erwin was given his first staring place alongside Sutton and thanked the manager by supplying the winner.
St Mirren had by far the better of the first half. They had several forwards who were happy to hold the ball and run at our defence whereas we relied on more of a passing game. Twardzik made the first of many vital saves when Naismith latched on to a ball over the top for a one on one chance. Our best efforts came from Law with a couple of on target strikes.
Goodwin was booked for an over enthusiastic challenge on Erwin and received the first of two yellow cards. The second arrived twenty minutes from the end when he presumably used foul language when complaining about a refereeing decision. He left the field and gave his team a mountain to climb.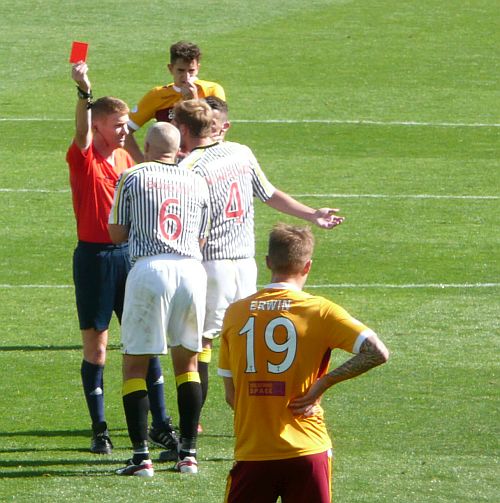 The second half started with an exciting spell of end to end play. Both teams were in attacking mode and Wylde should have done better after a thirty yard run that ended with a shot wide of target. From inside the box he had the option of setting up a team mate but he squandered the chance. Marwood had the next pop but our 'keeper was in good, confident form and saved.
The winning goal arrived in the 64th minute. Ainsworth made the best of some space outside the box and fired a powerful shot. Kello failed to hold and the ball spilled to Erwin outside the six yard line. He reacted quickly and side footed into the net.
We had to survive a few scares as St Mirren pushed for the equaliser. The loss of their captain didn't help but they pressed with a series of corners that had the home fans fearing the worst.
Erwin brushed the roof of the net with a 25 yard free kick before Caldwell forced Twardzik into a flying save in the dying minutes.
The win will go some way to clearing the dark clouds that have lingered over Fir Park in the last fortnight and we'll go to Tannadice on Wednesday hoping that a few of our injured players may return. An excellent hard fought win!
Motherwell 1 St Mirren 0
Team: Twardzik, Reid, Kerr, McManus, Francis-Angol, Ainsworth, Carswell, Lasley, Law, Sutton, Erwin
Attendance 4,620