Motherwell ended the season with a 3-2 loss to Inverness as they bowed our of the Premiership. There was a goal scoring farewell for Faddy to cheer the travelling fans.
Gordon kicked the game into action on a cold, wet and windy Caledonian Stadium and there was little to warm up the fans in the early stages.
It was no surprise to see a few changes to the Motherwell team. McDonald, Ferguson and Lasley were missing from the midweek winning team and Ainsworth Gordon and Campbell were in the starting eleven.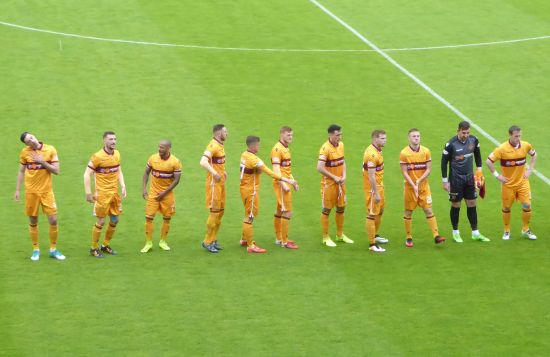 The last line-up of 2016/17
Moult plowed a lonely furrow with occasional support from Frear and Ainsworth and it was to Lionel that our first chance fell when he twisted and turned the the Inverness box to shoot inches wide with a left-footed effort.
The decent home crowd gave loud support their team everytime they crossed the halfway line but shots from Laing and Polworth brought no joy. Their cheering quietened considerably when news of Hanilton's lead filtered through.
Cadden brightened proceedings as the break approached with a 60 yard run down the right wing with defenders in his wake. He reached the angle of the 6 yard box but shot but managed to miss the target.
There was no warning of the calamatous five minute spell that arrived just after the hour. From nowhere Tansey drove low to the corner then Fisher added a couple while our defence was all at sea. Inverness had started the second half in the more attacking posture but there was no hint of the goal spree to follow.
McFadden was given a last hurrah and he took barely thirty seconds to score. Frear's powerful shot beat Esson and flew off the bar. Faddy was on hand for an easy header. The last kick of the season fell to Bowman as he converted a 92nd minute penalty in ffront of the happy 'Well fans.
The game ended with both sets of fans cheering their teams. Salvation for Motherwell and relegation for Inverness.
Inverness 3 Motherwell 2
Attendance 5,351
Team: Griffiths, Hammell, Heneghan, Ainsworth (Livingstone 55), McHugh, Moult(McFadden 72), Cadden, Frear, Clay, Campbell, Gordon(Bowman 66)