A wonderful strike from Clay and a late goal from McDonald gave us a hugely important three points in Inverness. The home team scored a late consolation but the points go south.
The big news as the teams lined up was that McHugh had returned to replace th einjured Lasley. It was the midfielder's first appearance since he was removd after an hour of our first league match of the season at Rugby Park. He lasted for the full game and earned his win bonus.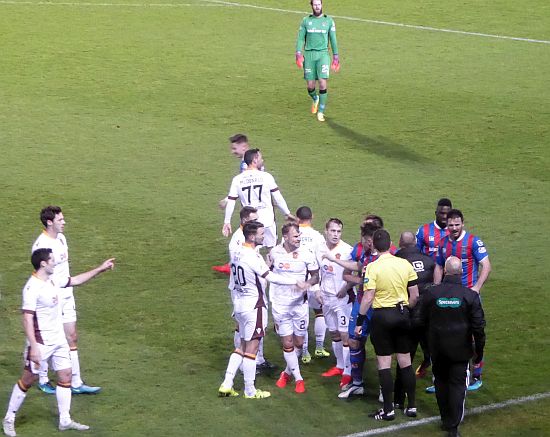 A rammy
Captain Hammell won the toss and choose to start with Samson in front of the impressive Well Bois choir.
There was only one goal bound attempt in the first 30 minutes, a long range effort that Fon-Williams almost fumbled. Cadden thumped the ground in frustration as he was forced to come off in 25 minutes. Ainsworth came on and almost sneaked a cross into the topo corner.
We rode our luck as the break drew near. Samson produced a couple of first class saves and Vigurs should have placed a close range header on target for a certain goal. The home side were on top but half-time arrived at 0-0.
Doumbouya caused us some early concern as he drilled a low tempting drve across our goal but there were no takers.
The evening took a turn for the better five minutes into the second half. Clay waltzed infield from the left wing and from 24 yards he let loose. The ball seemed to take an age as it flew but with Fon-Williams a spectator to caught the postage stamp corner to give us the lead. It was his first 'Well strike and soon Twist and Shout was given an airing.
Foran responded with a couple of substitutions and we countered by withdrawing Hammell with McMillan. Ainsworth had a fierce free kick saved but Inverness kept forcing us back.
It looked like an equaliser when the ball rocked our bar but it dropped on the right side of the goal line and we faced a further ten minutes of nervous defending.
The best way to defend is to attack and we got our reward in 87 minutes. Moult was the architect and his chip to McDonald gave our number 77 time to place the ball into the corner.
The fourth official had his hands on the 3 added minute button when Tansey got the ball over our line through a ruck but relief came with the referee's final whistle.
Bring on the Accies!

Inverness1 Motherwell 2
Attendance 3,097
Team:Samson, Tait, Hammell (McMillan 63), Heneghan, McManus, McHugh, Moult, Cadden (Ainsworth 25min), Lucas, Clay, McDonald