We were the better team in the first half yet managed to reach the break a goal down. Our belief overcame that setback and we drew level with 20 minutes left. There was a terrific finish to the game with both 'keepers in fantastic form.
The manager made one change to his starting eleven and recalled Lasley to midfield, Laing making way. The game flowed our way and we pushed Aberdeen back into defence. Johnson had a shot and we soon had the first corner of the game.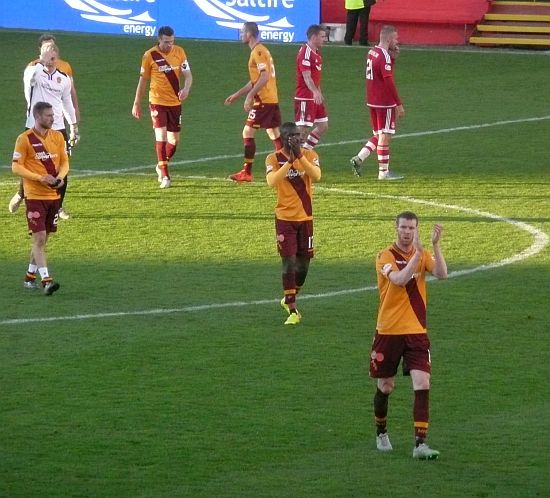 The home side had their moments and a run of corners but Ripley looked confident and clutched a few high balls. That good start set him for an excellent game. Lasley had a chance for glory in 20 minutes but he pulled a volley at the edge of the box just wide.
We had controlled the first period but as the first half ended the referee penalised Pearson wide on our left. It was a soft free kick but McGinn's delivery was headed into the net to gave Aberdeen the lead against the run of play.
Lasley was floored after 50 minutes and Ainsworth came of the bench. Pearson caused a panic with a careless pass that led to a close effort from Rooney. We rode our luck when a scramble in our box ended with the ball trickling to our post but thankfully McGinn was unable to reach it before it passed safely.
Fletcher and Moult were replaced by McDonald and Robinson and we dug deep. Ainsworth took the free kick that provided McDonald the chance to level the game. The striker headed home to the cheers of the 200 'Well fans in the away enclosure.
The final ten minutes were breathless as both teams went all out for a winner. Ripley produced a wonderful save to deny Logan then, in added time, it was his opposite number, Ward, who grabbed the limelight with great stops from Johnson then Ainsworth.
It was a good reward for a hard week's work with the new manager and if we can maintain a similar level of performance with any consistency then we'll soon be moving up the table.
Aberdeen 1 Motherwell 1
Attendance 12,389
Team: Ripley, Law, Kennedy, McManus, Chalmers, Johnson, Lasley(Ainsworth 50), Grimshaw, Pearson, Moult(Robinson 67), Fletcher (McDonald 60)