Motherwell's interest in the Scottish Cup came to an abrupt end at Fir Park at the hands of Dundee United. We took an early lead but two second half headers gave the visitors a well earned victory.
Ojamaa's opener was the highlight of a first half that saw action at either end but the second period belonged to the visitors. Only some heroics from Twardzik kept the margin to one and despite a spirited attempt to keep the United attacks a bay goals from Souttar and Watson were enough to win the tie.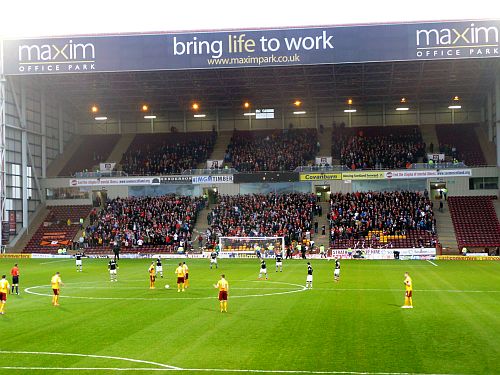 Those who had witnessed our poor display at Inverness a week earlier were pleasantly surprised by the confident and energetic eleven that played their part in an entertaining opening in the November gloom. Lawson, Law and Francis-Angol replaced Reid, Ainsworth and Kerr in the starting line-up and Motherwell kicked off facing the 2,000+ visiting fans in the South Stand.
Our recent form suggested that the visitors would be favourites but when Lawson set up Ojamaa with 7 minutes on the clock the home crowd were able to celebrate. The Sheriff drove low from 20 yards and Cierzniak was beaten at his right hand post.
Lawson, newly returned to the team, dispatched a couple of glorious 40 yard diagonal passes to Francis-Angol in advanced positions and we carried a threat in the search for a second goal. The midfielder lasted only two minutes in the second half and hobbled off. Reid was his replacement.
Although there was plenty energy and commitment from our men the best chances in the remainder of the game fell to the visitors. Armstrong and Dow wasted fine chances to level the score before the break with only Twardzik foiling their efforts but we reached the interval still in control.
United took charge in the second half and we were forced into some desperate defending. It was ironic that we were to lose two goals from headed efforts; the first from a corner converted by Souttar and the winner from a cross met by Watson in 82 minutes. United could have had another three but for our 'keeper blocking and snatching the ball as he won 'one on one' matches in his penalty area.
Our only real chance in the second half came in added time when Sutton headed over the bar but the better team won in the end. All we have left in the season is the fight to ensure top flight survival.
Motherwell 1 Dundee United 2
Attendance 4,827 (2061)
Team: Twardzik, Ramsden, McManus, Lawson(Reid 47), Sutton, Vigurs, Lasley, O'Brien, Francis-Angol, Law(Erwin 75), Ojamaa
29 November 2014