With six changes and three new faces on show it took a while for the team to settle. Erwin took the early notice with a couple of shots on target but it the patter of the game was soon established.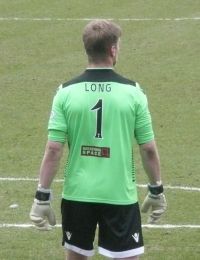 Most of the first half was played close to Long's goal and the 'keeper looked up for the fight. He commanded his box and despite the eventual three goal loss he had a decent game. County played with two up front and they were well supported from midfield. Time and again crosses arrived in our box and it seemed inevitable that the home team would open the scoring.
The goal came just after the half hour when yet another cross found its way to Wood just outside the 18 yard line. He steered the ball through the crowd and it found the net to Long's left. The 'keeper had no chance of making the save. We had a series of corners before the break and Kerr got his head to three of them. The goal bound attempts lacked pace and Brown collected without trouble.
Grant looks like a decent acquisition and he had the travelling fans on their feet inside 10 minutes of the second half. He scored with a neat free kick that went over the wall and beat Brown at his near post. Our hopes of a revival were short lived. Quinn directed a fine header into the net when our defence failed to intercept a cross ball from a free kick then De Vita added the third goal with a decent volley from a far post cross.
Changes were made. Johnson added pace to the left wing and Moore replaced an unhappy Lasley as we went for broke. Kerr scored our second when he headed a corner in of the underside of the bar to set up a frantic final ten minutes. County were able to cope with our desperate last charge.
The disappointment stemmed from our inability to string any series of passes and rely on a predictable but unprofitable long ball game. We lacked penetration through the centre and a shortage of players in the box when we were able to deliver from the wings.
County deserved the win and the pressure mounts on the team to turn the sad tide. We've yet to find a win in 2015.
Ross County 3 Motherwell 2
Attendance 3,283
Team: Long, Reid, Ramsden, McManus, Sutton, Lasley (Moore64), Erwin, Kerr, Straker, N Thomas (Johnson59), Grant (Ainsworth 88)