Motherwell's luck failed to turn as they lost 1-0 at Rugby Park despite creating half a dozen decent scoring chances. The losing run continues.
It was a tough one for Motherwell. We carved out the better chances but found the opposition 'keeper in good form. Meanwhile Kilmarnock got the break and the goal that won the match.
Stephen Robinson shuffled his starting eleven with four changes from Wednesday's outing in Maryhill. Bigirimana, Tanner, Hammell and Fisher joined in while Rose, Campbell, Frear and Petravicius missed out.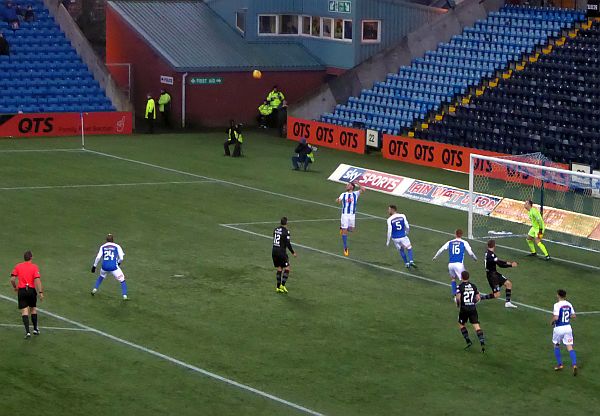 Dunne paired with Kipre in the centre of the back four and McHugh was freed to return to his usual midfield podition. The first chance of the chilly afternoon fell to Tanner in 11 minutes. Bigirimana's curling delivery from 30 yards found our man escaping his markers to get a touch but MacDonald was up to the test. At the other end Boyd was having some success in winning headers.
Bowman produced a delicious back heel to free Tait close the dead ball line. He found Fisher in room but MacDonald cut out the goal bound shot.
We fell behind after a scramble following a corner. Griffiths got a hand to the ball but it was not cleared and we paid the price. It had been a fairly even 45 minutes and we had the better chances but the manager had to deliver yet another team talk with his side trailing.
Grimshaw's participation ended two minutes when he left the pitch holding a dressing to his ear. Rose replaced him and was immediately involved in front of the Killie goal. His blocked effort fell to Fisher who fired a powerful effort at the 'keeper. A minute later Rose was on the end of a Kipre cross as we pushed for the equaliser.
As the frost began to settle on the artificial surface we kept the opposition's defence busy with a series of corners. Newell came on for his second league appearance when Fisher was hooked in 62 minutes. Griffiths got a break when a nasty deflected shot caused a scare but the 'keeper has long legs and they came to our rescue.
Newell did not take long to have a go but his shot from inside the area was wide. MacLean replaced Bigirimana and we geared up for a final push but the home defence stood firm. There were four additional minutes but no joy for the 525 Motherwell fans who shivered behind MacDonald's goal.

Kilmarnock 1 Motherwell 0
Attendance 4,179 (525)
Motherwell: Griffiths, Tait, Hammell, Grimshaw (Rose 47), Bigirimana (MacLean), McHugh, Bowman, Fisher (Newell 62), Dunne, Kipre, Tanner
16 December 2017