It was goalless after a drab first half but Taylor's two goals early in the second killed the contest. Motherwell never looked like scoring and Fox had an easy time in the home goal.
Pearson made the starting eleven but Johnson missed out. The manager opted to replace the missing winger with Sutton and we lined up with three strikers. The penalty was that the midfield was weakened and our normal 4-4-2 shape was disturbed. Although the three front players took turns at dropping back, we never looked comfortable.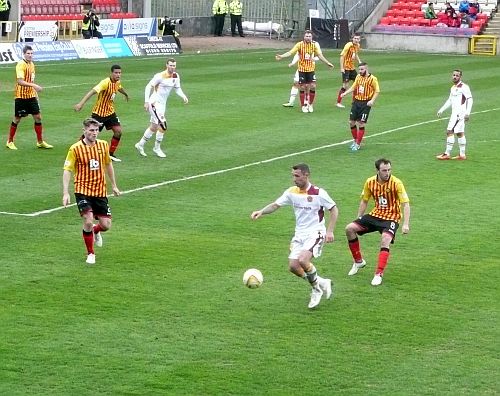 Our over reliance on long balls was ineffective as the Thistle defence coped well with the ball in the air. The fast passing game that had proved so good against Hamilton and Kilmarnock had disappeared and we paid the price.
It might have been so different has Sutton been able to capitalise on slack defending inside the Thistle box in the second minute. His close range sweep was deflected as it ran to the far post. We then had our best spell of the match – for all of five minutes. There was an urgency about our play and the opposition defence was tested. But the pressure was short lived ad the rest of the half saw few goalmouth incidents at either end. We delivered a few free kicks that resulted in headers off target and Thistle managed to send a few low drives across our goal but all in the 5,000 crowd hope for an improvement in the second half.
We lost the opener following a free kick conceded by McDonald was defending deep on the wing. The cross was headed back across the six yard box by Bannigan and Taylor has the simplest of jobs to head home from close in. The striker forced Long into a fine save five minutes later but his second was not long delayed. He forced the ball over the line when he pounced on the loose ball that followed his goal bound attempt and our day was done.
Despite the replacements (D Thomas, Moore and Carswell for Ainsworth, Sutton and Lasley) we managed no shots on target and eventually finished the game with ten men when Carswell collected his second yellow having spent 12 minutes on the field.
It was a dismal defeat and it ends our winning streak. The table does not make good viewing as we enter the split and with five games remaining the threat of the playoffs looks increasingly likely.
Partick Thistle 2 Motherwell 0
Attendance 5,003 (1656)
Motherwell: Long, McManus, Ainsworth (D Thomas 66), Lasley (Carswell 75), Law, Erwin, Sutton (Moore 75), Straker, Laing, Pearson, McDonald.