David Lindsay took time to share some memories of the four cup finals involving Motherwell during the 1950s. He's been watching the 'Well longer than most and complained during the interview that his father would not take him to the 1933 final!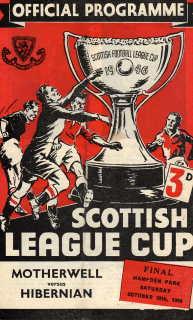 We won the League Cup in 1950 (3-0 v Hibs), lost the Scottish Cup in 1951 (v Celtic 0-1), won the Scottish Cup in 1952 (4-0 v Dundee) and then lost a League Cup final in 1954 (2-4 v Hearts).


David started with the 1950 game and recalled that Hibs had beaten us convincingly (2-6) at Fir Park just a fortnight before the final.This was the era of Hibs' Famous Five (Smith, Johnstone, Reilly, Turnbull and Ormond). "Gordon Smith played outside right, he was injured, but he kept sending in cross after cross and Lawrie Reilly was just banging them in.


They took six off us that day but I remember Andy Paton playing well, he was the finest footballer I've ever seen."But we got our revenge."In the final, a very good game, it was 0-0 at half time.Kelly scored then Forrest and Watters.Andy Paton told me later that after Kelly scored the first goal, the team started to fall back and defend the lead, he shouted 'Get up the park and leave these five to me'.We played very well for the whole game against a very good Hibs side and to beat them, at that time, was a tremendous result.After the final whistle Younger, the Hibs goalie, was crying his eyes out.Johnny Johnstone had his arms over his shoulder to console him.


"I don't know how we managed to lose the Scottish Cup final to Celtic later in the same season.Jim Forrest missed from under the bar.
"On the road to the '52 final we didn't have a home tie. We had to replay against Dunfermline, Rangers (we beat them 2-1 at Fir Park with Jimmy Watson getting sent off) and we had to play Hearts three times in the semi.

We were lucky in that final because Paton and Watson were due for suspension but they waived it until the start of the new season.I remember that it took ages to get back to Motherwell after the game.The team got back before us and had their celebration meal at Robb's restaurant.There were hundreds of people outside.


"Hearts had a very good team for the '54 final they had Wardhaugh, Conn and Bauld in that team."I was in the old North Stand for that game. We travelled with a supporters' bus.There were fleets of buses parked where the new Asda is now. "


How will we do in this final?"I think we could do very well, particularly if we keep the ball on the ground against their big defenders.As long as they do themselves proud then that'll do me.We can't compete against the Rangers and Celtic with the money they spend.We can only hope that Rangers have one of their off days".


Many thanks to David for taking the time to share his memories.

Read more about our CIS 2005 campaign.