While many headlines were to be written about the big earners who were shown the door, the sympathy of the fans was with the backroom staff and young players who suddenly were without a wage.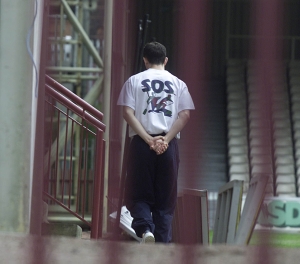 A 5pm announcement revealed that 19 players were to leave. 10 of them had only a few weeks remaining on their contracts (Bernhard, Brawley, Fallon, Fererre, Flemming, Nicholas, Ange, Soloy, Wilson and Wood) but the others (Karl Ready, Greg Strong, Mark Brown, Andy Dow, Brian McDonald, Eddie Forrest, Kevin Twaddle, Stephen Cosgrove and Roberto Martinez) were where the real savings were made.
Some went quietly but others made their discomfort known and the papers were happy to give voice to their grievances. Ready and Dow lead the way with these comments in the Daily Record -
Dow said: "John Boyle has shafted every single one of us. We have all been treated appallingly. He has allowed this to happen at the worst possible time for us. He knew this day was coming but never told any of the team.
"Now we are all out of a job at the very end of the season. And what chance do any of us have of getting a new club right away? I have a two kids to support and have just bought a house. I'm not going to have any income over the summer months. It's no way to treat people.
"Boyle let this go until the very last minute when he could have been more honest. If Motherwell are allowed to get away with this, then what is to stop every other club in Scotland doing the same?
"They could easily apply to go into administration and tell all their players to leave without having to pay any more wages. Listen, if it can happen here, it can happen anywhere. The meeting with the administrator was short and sweet.
"I'm not daft, I knew what was coming but despite all that it's still a shock when you're given the news. Nothing can prepare you for this.
"Boyle wasn't at the meeting and if I met him in the street I would ask how he could do this to another human being? How could he do this to my family? And this is a guy who says he's a Motherwell supporter. The only people guaranteed being kept on are the really young lads who aren't on a lot of money anyway. But most of us were told that was it.
"There were guys in tears as they walked out of the club. This is hardly the best time to be a footballer out of work, is it? It's going to be like a cattle market out there with so many people looking for a club.
"All the lads have had a meeting, but I've no idea what we can do in legal terms. The contract really is not worth the paper it's written on. I have been sacked for no reason. It's unfair dismissal but whether we can do anything about it remains to be seen. The one thing I need to find out is what happens if a buyer comes in on Thursday? What happens to my contract then?"
An equally furious Karl Ready said:
"Boyle has allowed the club to go into administration. If I met him in the street I would kick his ****.
"This wouldn't have been allowed to happen down south and I deserve to be treated with a little more respect. I played every game this season and worked hard behind the scenes to keep the lads ticking over. But I've been told I can go and I got nothing for it.
"I pay my dad's mortgage and have two families. I haven't even told my dad yet."
The official MFC announcements
Ten years on - a new attitude prevails
Well Worth Saving - Supporters Trust - Well Society