Motherwell fans set off in their droves to the birthplace of Hans Christian Andersen for the first leg of a tie that would lead to the final qualifying round and a possible draw with one of Europe's finest. Could we keep the tie alive?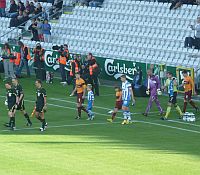 A mixture of trains, boats and planes delivered hundreds of claret and amber clad fans to Odense eager for the chance to cheer on the team and grateful for the chance to explore Danish culture. Much of the latter was discovered in Ryan's bar where much time was spent investigating Tuborg.
Following the pattern established at Nancy and Llanelli there was a fans' procession to the stadium – and later a long march back to the town centre. Fionia Park is a fine modern ground with a capacity of 15,000 and there was a friendly welcome on hand.
The game started in the evening sunshine following a glorious August day and we made a decent start. Craig Brown had us set up to get the valuable away goal but the home side score in the first half when a free kick from Sorensen escaped everyone.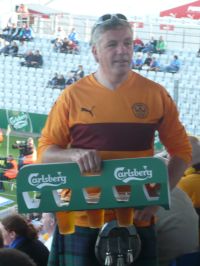 Despite our best efforts we fell further behind when Utaka's pace caught us on the break with fifteen minutes remaining. It was a lead that was hardly merited as we had given a good account of ourselves.
Jennings got himself dismissed as the final minutes ticked away and it looked like we would need a miracle at Fir Park is the tie was to be salvaged. It arrived with the last kick of the ball! Blackman earned a free kick and Hateley sent the away fans home happy when his shot found the net.
The chance of reaching the next round was still alive.
Match report here
Thursday 19 August 2010
Odense (Sorensen 31, Utaka 78) 2 Motherwell (Hateley 93) 1
Team: Randolph, Saunders, Hammell, Reynolds, Craigan, Hateley, Humphrey, Jennings, Murphy, Sutton, Lasley