Despite the hammering in the east end of Glasgow the team can hold its collective head high after a tough round of fixtures. They have earned a few days off and a chance to recharge depleted batteries.
By any standards the collection of four points from the last three league games is a decent haul. Any team in the division would view a visit to Pittodrie followed by a home and away double against Celtic with some apprehension, to emerge with our position in the table unharmed is testament to the quality of the squad.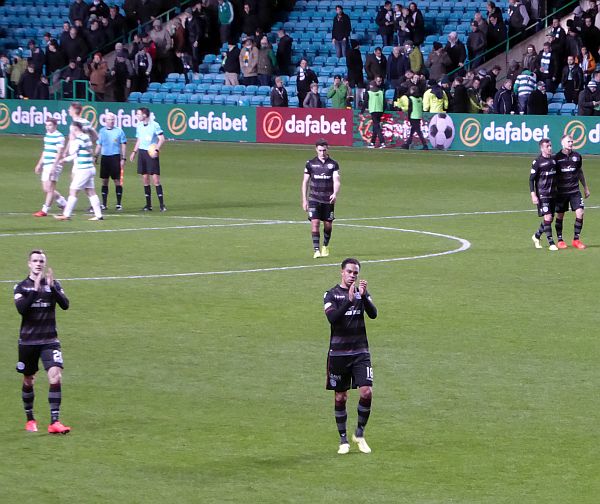 The manager spoke well in Saturday's post match interviews. He declined to take the easy route by dismissing the suggestion that his team were suffering the effects of the week's earlier games. "We turned up today expecting to give them a tough game but we started the game really poorly. We stood off them and gave them ownership of the game. And I think the game was over by half time."
But Robinson's unwillingness to use fatigue as an excuse does not deny the facts. We pressed Celtic effectively in the opening stages but soon dropped off and conceded control. The disparity in squad sizes was a real factor when three games are played in a week.
As for the verbal brickbats that have been exchanged - a waste of hot air. All that was accomplished was the delivery of fuel for radio phone-ins and yards of column inches in the tabloids.
We have to hope that Carson recovers from the heavy fall that seemed to cause an issue with his shoulder and that Moult's ankle knock, causing his substitution, is of no consequence.
Results elsewhere have given us a five point advantage over Hearts and St Johnstone as they share sixth place. The next three fixtures have us on the road to Tynecastle, Firhill and Rugby Park. A decent return from that lot will ensure we can go into the busy festive period in the right half of the table.