Saturday's result was no surprise, in fact many feared that our weakened eleven might be on the wrong end of a complete pasting. We have been told many times that there are ways to lose games and this example passed the test.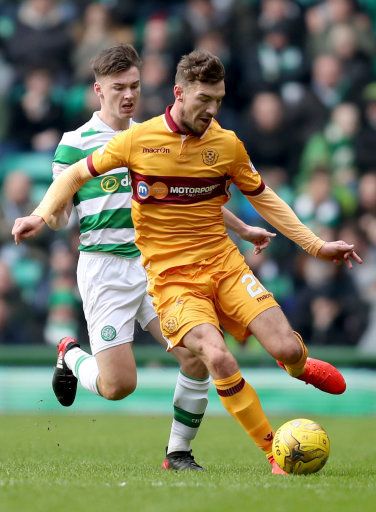 Craig Clay on the ball
For the most part we offered a well organised and efficient defence, all the more laudable given the injuries to Hammell and McManus. As the manager pointed out in comments after the match, it was a testament to the depth of the squad that we were able to cope with the loss of four regulars (McHugh and Tait in addition to the two mentioned above).
A couple of chances fell to Pearson but neither Moult nor McDonald came close. Jules had a costly lack of concentration that led to the penalty but otherwise he played well. He produced a couple of surging runs through midfield that suggest there may be more to his game that merely defence. McMillan had a testing afternoon against Sinclair and Tierney and he'll benefit from the experience.
We were just another notch in the long run of Celtic victories and all of our competitors will suffer the same fate. In that sense we can dismiss the loss and concentrate on the battles to come.
Games against Dundee and Kilmarnock are up next as the countdown to the split begins. There are eight games remaining and the prize of a top six place is still up for grabs.
More than a few eyebrows were raised as the news of the imminent return of Stephen Robinson was confirmed. He'll be back as first team coach until the end of the season. He was highly valued in his previous stay and could be just the catalyst the team needs in the next few months.