When it was suggested that to win the League Cup final would be the club's greatest achievement he said, "I imagine so, given where Celtic are at the minute and what Brendan Rogers has done with them".
The manager, interviewed on BBC Sportsound, spoke at length about the upcoming trip to Hampden and his football background. He was also invited to express a view on the suitability of Michael O'Neill as a possible replacement for Gordon Strachan as Scotland supremo.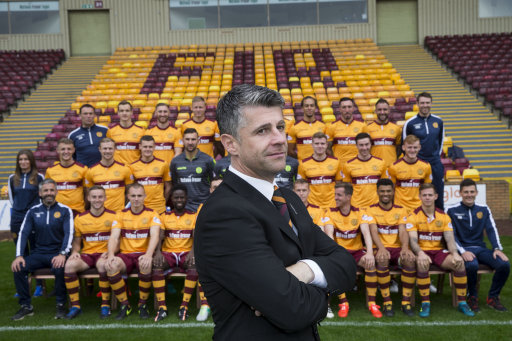 As for the prospect of a win - "I think it's achievable. We genuinely believe we can give Celtic a game and course them real problems. We know how good they are and what kind of players they have but we believe we can do something. And I think we take that into every game. It's an opportunity, someone's got to beat them."
" One thing is for certain, we will give absolutely everything. On the day if it's not good enough it won't be for the want of organisation or trying. We'll come up with a way of affecting them. We will try to win the football match". Asked if he had a plan he said, "There's weaknesses in every side but we'll try to play to our strengths and I'm hopeful that if we can play to the best of our abilities we'll have a chance".
He explored the journey that brought him to Motherwell and was happy to acknowledge the debt owed to Ian Baraclough and Mark McGhee for giving him the opportunity.
The difficulties the club had with restricted finances was explored and that led to a discussion about our developing talent. Cadden and Campbell were lauded for their approach to the job and he added that he had received great feedback about the pair from the Scotland coaches.
Reports suggest that the SFA have the Northern Ireland manager in their sights and Robinson offered his insight. "His man management is very good as is his professionalism. His preparation is meticulous." As a possible manager of Scotland, "I hope not, I'm a Northern Ireland fan. But if I was appointing a national manager he'd be top of the list."
Faddy rounded off the Motherwell section of the programme by describing some of Robinson's attributes - control freak, works really hard, likes to be in charge and the players know exactly what to do. He plays to their strengths.
He finished by suggesting that it would not be a surprise if Motherwell won the cup!