Season 1988/9 was far from Motherwell's best in the league. We were to finish second bottom as Hamilton Accies took the drop.
The campaign, unsurprisingly, started badly and we took the field against Hearts for round nine of the league campaign with only two draws to our credit at the bottom of the table.
Barely two minutes into the game, in front of the away terrace, Walter Kidd crossed to the six yard line and Cammy Duncan rose to punch the ball to safety. Wayne Foster was late with a barging challenge and the game was over for our 'keeper. With no replacement available (Gardner was injured) it fell to our hero take station between the sticks.
He delivered a performance that any full time goalkeeper would have been pleased to match. He took crosses, made saves and distributed the ball well. As the first half drew to a close we lost the first goal to Alan Moore but is looked like we would face a two goal deficit at the break when Wishart handled while under pressure inside the box. Foster took the spot kick and Kirkie the Kat saved to his left.
Moore scored a second for Hearts in 52 minutes and most of us felt that the game was gone. Fortunately the players didn't agree and Ray Farningham pulled one back on the hour. Ten minutes later Tom Boyd was fouled by Kenny Black and Paul Kinnaird delivered the ball for Craig Paterson to head into the net to level the match. Johnny Gahagan interrupted his warm up behind the goal with an impressive star jump!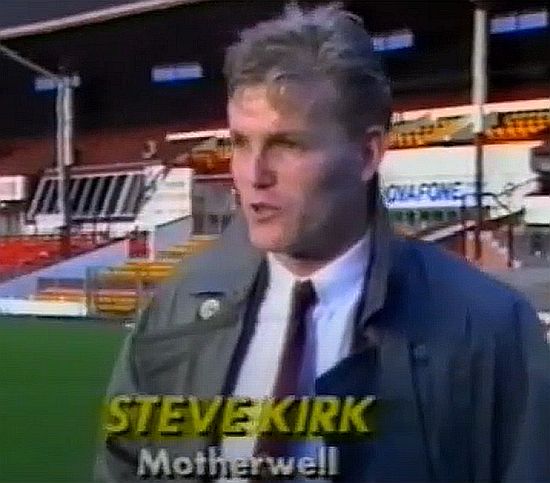 Stevie's post-match TV interview
Kirk's work was not yet finished and he pulled off another save from a long range effort just before the final whistle. It was no surprise that he was Man of the Match.
That episode was just one of many that marked Kirk's rise in status with Motherwell fans. For a fuller appreciation of Kid Kirk's exploits have a look at Eddie Steelman's fine article in the GLF Fanzine.
Hignlights are available on YouTube.