The opportunity of travelling to Russia to watch the team play in European competition tempted forty two fans to make the long journey into what was, for many, the unknown. It proved to be a memorable experience regardless of the result.
Most joined the team on the charter flight and others travelled independently, via Moscow. Krasnodar is far from the tourist hotspots of Russia and many were apprehensive of what lay ahead. Few concessions are made for those unfamiliar with the Cyrillic alphabet. That served to heighten the sense of adventure.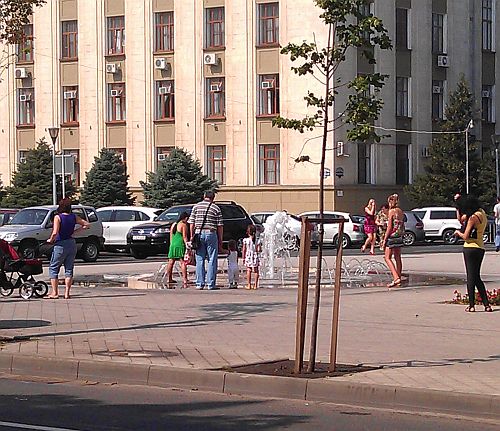 Street signs, shop titles, menus and the like were indecipherable and even something as simple as ordering lunch was more complicated than usual. The city centre had many tree lined streets and the welcome shade meant that exploration in the hot sun was tolerable.
There are many grand squares, dancing fountains and pleasant parks to break up the commercial district. As kick off time drew nearer the streets started to fill with the yellow and green of our opponents.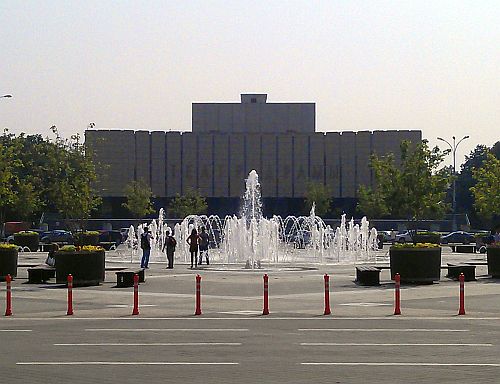 At the stadium we were given a warm welcome and offers to trade favours, exchange handshakes and pose for group photographs were mixed with the purchase of Kuban memorabilia from the many stalls that surround the ground.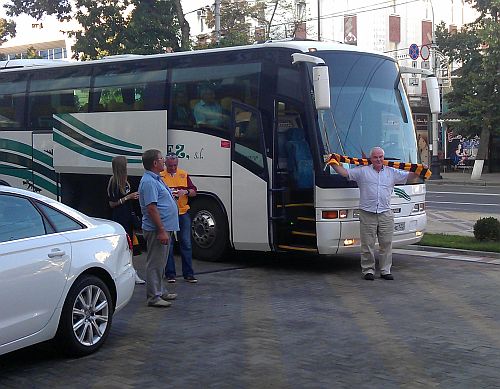 The atmosphere in our well-policed enclave was relaxed. The local boys in blue were keen to share photo opportunities and the contrast to the heavy atmosphere in Athens was welcome. The pre-match entertainment culminated in an impressive outpouring of regional pride. On marched a colourful procession of Cossacks, a military band and young girls in traditional costume. A display of sword play and stirring songs soon got the crowd in full voice.
There is no cover in the stadium but the steep stands prevented the fans chorus from drifting. They made lots of noise. The four floodlight pylons are huge structures that are able to host a mass of communications kit above the lights and the dominate the ground.
The home fans applauded us on the way from the ground, easy to do with their progress in the competition secure, but we wish them well in their next round tie against Feyenoord.