Motherwell fans woke up on Monday tasting a combination of bitter defeat and pride in a fantastic effort at Hampden Park. We played well, a definite improvement in our last two losing finals, but ultimately could have few complaints about losing to a better team.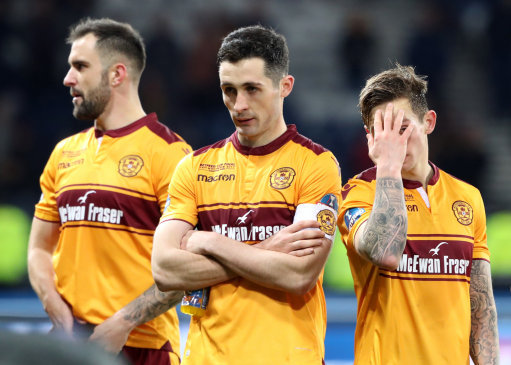 No need to drop your heads
The long wait of 26 years will now inevitably tick over to 27 and though a good Scottish Cup run is not impossible, we all know it will likely be a wait until our next return to Hampden. It is galling to look at the list of clubs who have won trophies - some of them two or three - in that timeframe while few match our consistency.
We have taken three runners-up spots in the league, collected three sets of losers' medals at Hampden and can throw in another three third place finishes and two lost semi-finals since 1991. We've been thereabouts an awful lot. But never there.
Consolation is given by the obvious connection Stephen Robinson has developed with his squad, the club and the fans in the community. It will have to do for now.
What happens next is up for debate with a run of fixtures to Christmas which, on paper, could yield few points. A couple of wins, however, would effectively guarantee top-flight football next season and provide a positive context for the important decisions to be made in January.
The club are already looking forward with contract extensions given to Robinson, assistant Keith Lasley, captain Carl McHugh, Allan Campbell, Cedric Kipré and young goalkeeper Rohan Ferguson signed and developing on loan at Airdrie. Further deals can be expected with our financial future on a stable footing.
One deal which we know will not be signed is the contract with Louis Moult's name on the bottom line. But we have already made back the money missed on his transfer few through our cup run to enable a flexible approach early in 2018.
Should we beat Hamilton in the cup and get a superficially easy draw in the fifth round, the temptation must be there to keep our star in a last throw of the dice for glory. Should we be upset by Accies - or win and be dispatched to the east end of Glasgow in the next round - banking a fee and beginning the preparations for next term six months ahead of our rivals looks the sound choice.
Whichever option is taken, on Moult and everything else, we can be confident in the leadership at Fir Park. The Well Society, with further backing given by Les Hutchison for next year, has provided a stable foundation.
The day-to-day operation is also running smoothly with Alan Burrows growing into his role, seemingly bringing the perfect combination of professionalism and passion to a job which previously looked one of the most challenging in Scottish football.
We may not have the silver shine of the League Cup to ease the coming dark of winter - but the future seems bright regardless.
'Well's cup hopes end at Hampden