Take the point and get better, that was the message from Stephen Robinson after the goalless draw at Livingston.
It was a perfect day for football. The sun shone and the travelling 'Well fans outnumbered the home support but the spray of rubber pellets that rose with each bounce of the ball suggested that there would be an artificial element to the game.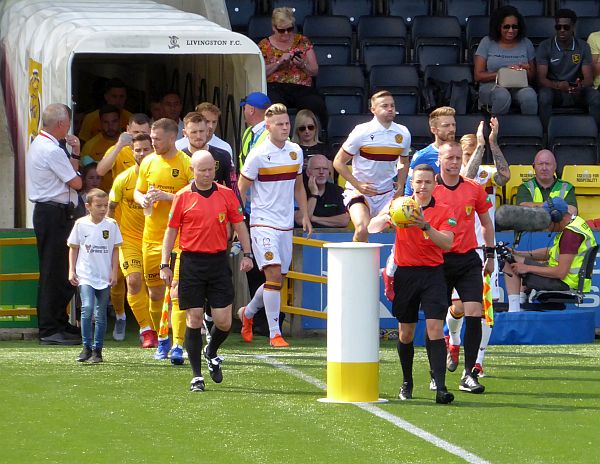 The manager, speaking in the media rrom after the game, explained why we started the game with only one of our two wingers, "If you walk on that surface you'll see that it's almost impossible to run with the ball. It's bobbling everywhere so it was not a game for wide players today that's why we didn't start with both of them.
"It's a difficult place to come to. You've seen the surface. You have to deal with the physical side of the game, they put every single ball into your box whether it's from throw-ins, set plays, anywhere. So we dealt with that, we dealt with the second phase but what we didn't do was put our stamp on the game. When we did we created chances but we didn't do it often enough, we weren't brave enough.
"So, we'll be better than that. We'll take a point thanks to our battling qualities. They'll take points off teams this season as they always do.
"I changed Christian (at the break) because I thought he was going to get sent off. He was on a booking. Another couple of tackles on that surface, it was sticky, you make one wrong decision and you're down to ten men. We just needed a little bit of freshness, you're trying to win the game, we're trying to be positive.
"It was a game where Mark made a couple of good saves, their 'keeper made one save and they cleared one off the line. In between there wasn't much goal action.
Asked about Declan Gallagher's return, "Yes, he did OK – probably should have scored twice, he had chances from set plays. He's a great player, he was accustomed to what we would face, balls coming in to our box and he dealt with them well.
"We'll be better than what we showed today."