Motherwell's ability to maintain a conveyor belt of young talent is at threat if the SFA's Project Brave proposals are not altered. Alan Burrows sees that as a threat to the existence of the club.
In an extensive interview with Scott Mullen carried in the Herald and Evening Times our Chief Operating Officer says,
"Would it put Motherwell off a cliff to be excluded? If we are not allowed to develop players in the way we would, if we are not allowed to try and compete for the best players in the area, if we can't get the best players through our youth system into the first team with a view to sell them then it presents a real clear danger to this football club, yes."
The weakness in the proposals centres round the idea of an elite league of eight teams. The expectation is that many of Scotland's future internationalists will come through the system.
Alan reminds us that Motherwell no longer has a sugar daddy and that a major plank in our economic model is the development and eventual sale of young players. If we are excluded from that elite group our ability to source the best youngsters from Lanarkshire and surrounds will be severely damaged. The viability of the club could be at risk.
Many parts of the plan make sense but the restriction to an arbitrary eight teams will exclude many, not just Motherwell.
The article points out the irony of the billboard outside Hampden on the day of the SFA meeting in October
"It was of Faddy's goal in France. It was the aftermath of his wonder strike and the three players in the picture were Faddy, Lee McCulloch and Stephen Pearson.
"I thought to myself 'I'm going to a meeting to get told that we are potentially getting locked out of this academy programme and there's a big picture at Hampden on the SFA wall of three boys whose one thing in common is that they all came through the youth set up at Motherwell'.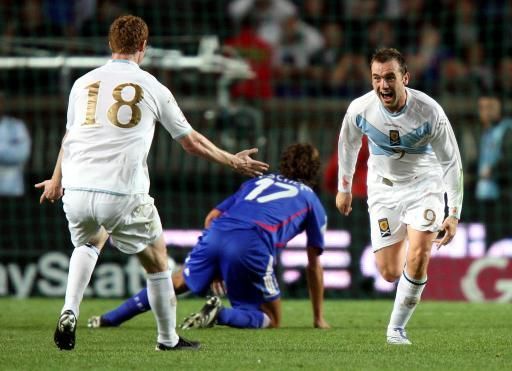 McFadden and Pearson celebrate that goal
"The guy who scored the goal in one of Scotland's greatest victories in the last 20 years came from Motherwell. The two that celebrated with him first came from Motherwell. A quarter of the team that beat France in Paris came from Motherwell, yet we're then getting told we're not getting told we're not good enough to be at the elite level of Scottish football."
The move to fan ownership at Fir Park comes with the hope that a fresh voice will be heard in the dusty corridors of power. Opposition to a major part of this initiative might be the first of many challenges that Motherwell may raise as the balance of power moves from boardroom to the stands and in Flow we have a strong voice.
The full article can be found here.