Motherwell and the SFA Referee supremo will meet to discuss what the club describes as "significant inconsistencies" in the application of the guidelines relating to serious foul play.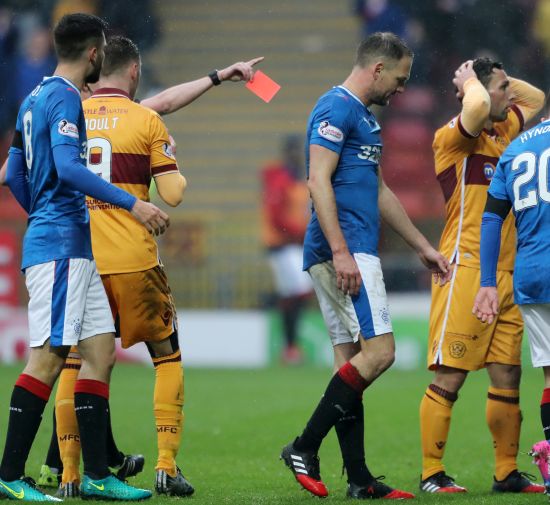 McDonald gets his marching orders
Given the strong comments from the Motherwell manager and some of his players following the recent spate of red cards this development seems to be a welcome step forward.
It is vitally important that players know the line that cannot be crossed and that officials make consistent decisions. Clearly there is some confusion that has to be addressed.
In a statement on the MFC website following the decision not to appeal Carl McHughes' dismissal on Saturday the club set out its need for clarification.
"Given a fairly broad set of criteria has been issued by the International Football Association Board (IFAB) when judging a challenge during the intensity of a match, it's now so open to individual interpretation by each match official it could and has lead to significant inconsistencies across games.
A number of challenges in various SPFL Premiership matches (and high profile matches in other major leagues) over the last few weeks would more than meet the criteria both Scott McDonald and Carl McHugh were judged by, and subsequently ordered off for, but only cautions were issued.
This causes a great deal of confusion and frustration for our playing staff, coaching staff and supporters, and it is making it increasingly difficult to say with any certainty what is and isn't a red card offence when talking about 'excessive force'.
Everyone involved in football understands that, at times, clubs will be on the end of honest mistakes or incorrect calls, it is part and parcel of the game. In addition, it is also acknowledged and accepted that match officials do not set the laws of the game, only enforce them.
However, that means they need to be applied consistently across the board and any law or criteria that allows for such a broad scope of individual interpretation is, in Motherwell FC's view, a flawed one."
John Fleming, the SFA head of referee Operations, will meet with the squad and we can only hope that the outcome will eliminate the costly red cards as the season continues.