The financial statements for the year ended May 2017 are now available to Motherwell FC shareholders. They reveal an increase in turnover and a reduced operating loss of £104k.
Given that the previous year resulted in a loss of £404k, we are moving in the right direction and the forecast is for a healthy cash position for 2017/18.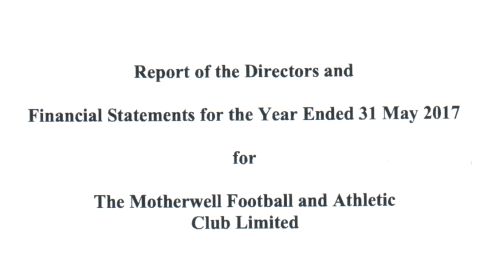 There was a dip in income from broadcasters but gate receipts, sponsor and advertising and UEFA solidarity all increased their contributions to push turnover to more than £4M.
The report indicates that our cup income increased last season despite early exits; games against the big Glasgow clubs tipped the balance. There was a modest increase in transfer income and next year's results will include the sell-on benefits amounting to £720k for the sale of Ben hall and Marvin Johnson.
The board of the club has five members; Jim McMahon, Leanne Thomas, Douglas Dickie, Tom feely, Alan Burrows.
Staff and other operating costs were in line with 2015/16 but the reference to Directors' salaries shows an expenditure of £55k compared to £0 in the previous year.
There was some repayment of loans to Les Hutchison and John Boyle and the outstanding total to the pair was £1.75M. Since the balance sheet date more than £200k has been repaid to the pair. The Well Society passed £110k to the club and its contribution over the years now approaches £500k.
No doubt more snippets will be gleaned at the 112th AGM of the club on Monday 8 December.