Motherwell were well beaten 4-1 at Celtic Park on Sunday afternoon. Gboly Ariyibi got our goal in controversial circumstances and raised the temperature of the game but the outcome of the contest was unchanged.
Much of the post-match discussion of this game will focus on the second half goal that gave Motherwell a glimpse of a lifeline. Celtic were two goals up and cruising when they kicked the ball over the touchline to allow the injured Christie treatment.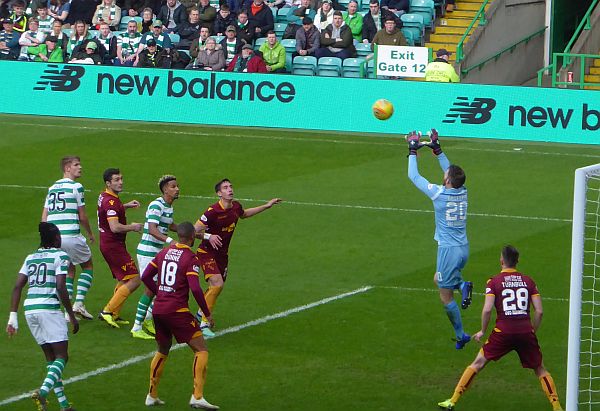 A busy afternoon for Gillespie
We took the shy from halfway and James Scott found the ball at his feet with a clear avenue to Bain's goal ahead. Everyone in the ground except Scott expected a pass back to the 'keeper but the 18 year old making his first start for the first team switched to attack mode and charged into the box. His shot was parried and Ariyiby was presented with a simple finish. Bedlam ensued.
There was one change to the Motherwell team that had brought so much success in recent weeks. Injury forced Curtis Main to stand down and James Scott was promoted.
After a reasonable opening spell we conceded twice before the break to give Stephen Robinson a tough half-time team talk. It was clear that our hosts carried lots of threat going forward but our passing philosophy came through and in the first twenty minutes we managed to play through the Celtic defence though there we created no clear goal scoring opportunities.
What may have been the turning point came in 20 minutes when Edouard and Tom Aldred clashed heads as they competed for a high ball. The striker was boked but or man had to come off with blood flowing from a head wound. To the surprise of many Carl McHugh was preferred to either of the central defenders on the bench. Our rhythm was lost and we lost goals following crosses from each wing. Sinclair and Edouard took their chances.
Celtic were well on top and seemed likely to extend their lead before the brouhaha. Motherwell choose to make the best of the situation and took the initiative. We piled pressure of the Celtic goal with the home team clearly riled by the unexpected concession. Tempers were up.
McHugh was knocked out in another head clash involving Edouard and he was dispatched to hospital with a neck brace in place.
Thoughts of an unlikely leveller disappeared as our hosts scored two late in the game. A special free kick from Edouard and a strike from Burke ended the scoring.
An embarrassed Motherwell manager tried to protect his young protégé after the game but the incident will live long in the memory of the Celtic support and he will have to get used to some abuse on his next encounter with the Parkhead team.
Celtic 4 Motherwell 1
Attendance 58,604
Team: Gillespie, Tait, Aldred (McHugh 22 (Donnelly 74)), Campbell, Scott (Sammon 65), Ariyibi, Grimshaw, Dunne, Gorrin, Turnbull, Hastie
Sunday 24 February 2019