Motherwell take on Celtic at Hampden on Sunday with the prize of the Betfred Cup on offer. This is a rare chance for a national trophy to bear claret and amber ribbons, can we upset the odds?
We know that Stephen Robinson will ensure that his men take to the field with attacking intent. The plan will be to take the game to the opposition and build on our strengths. The building of a defensive barricade is not his style. That said, it would be foolish to adopt a gung-ho attitude.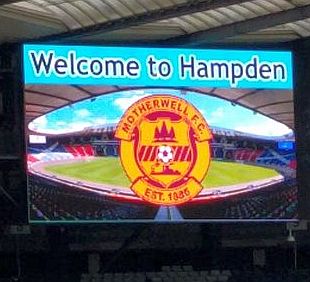 Last week's win at Pittodrie can only reinforce the self-belief that has developed inside Fir Park since the team came together at the end of the summer. By way of contrast we can hope that Celtic's midweek thrashing lowers morale and points to an end to their invincible run.
The manager has shown a willingness to change from his usual preference of a back three if the need arises and this may be such an occasion. Tait, Kipré, Hartley and Dunne can provide a steady base with the option of switching to a three if five in the middle is preferred.
Cadden and McHugh will start and a pair from Rose, Bigirimana, Frear, Grimshaw and Campbell will join them in midfield. Bowman and Moult will enjoy a third run out on the big pitch.
As for the opposition, they have a host of talent and could field three different sets of eleven in the upcoming triple header. But the need to excise the ghost of PSG will be great and we will have to overcome a strong team.
The League Cup has been in our hands only once, in 1950 when Andy Paton was hoisted shoulder high. Our players will have to play the game of their lives and we may see extra-time after a 1-1 in 90 minutes. After that, who knows?
Has anyone heard what the arrangements are for parading the trophy?