Motherwell take to the road again on Wednesday as they try to end a mini-slump in Maryhill. Our prospects of success will be boosted if the back room staff can manage some running repairs on injured players.
At Tynecastle we looked like a pale reflection of the strong confident side that stormed through the first half of the season, and little wonder. Without Moult, Hartley and Carson on the starting grid we had a big problem. Hope all but disappeared when Cadden had to be substituted before half-time then Fisher succumbed to an early head knock. It says much for the character of the rest that they had Hearts pinned back for the final quarter as we pressed for an unlikely equaliser.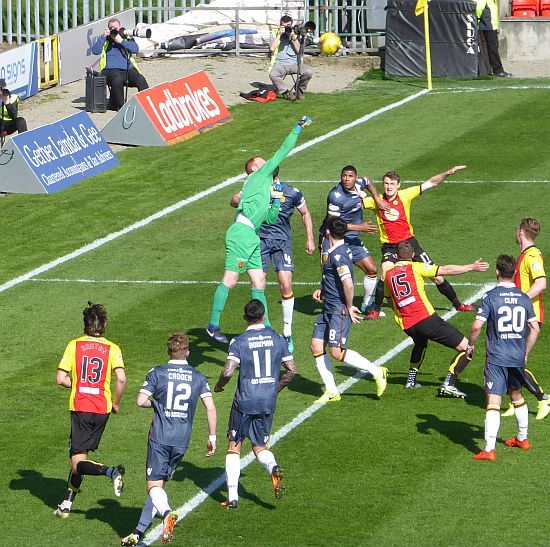 Our last visit to Partick Thistle
The manager, to his credit, spoke not of the injury crisis but stressed the opportunity now offered to those who had been knocking on his door looking for a place in the team. Several of them will have another chance to impress at Firhill. Petravicius, Tanner, Frear, Grimshaw, and Bigirimana need to step up to stake their claim. Bowman will be without his striking buddy but if he is to inherit the king's crown for the rest of the season he'll have to be more productive.
A long injury list is something that Alan Archibald has been juggling for most of the season. Osman, Bannigan, McCarthy, Fraser, Woods are the most recent batch and the overstretched squad has suffered catastrophic losses as a result. They have taken only 11 points from their 16 starts and have the worst goal difference in the league.
After the 5-1 drubbing at Rugby Park on Saturday Archibald described their defending as comical. That may give our attackers some hope.
None of the fans who brave the expected freezing conditions will anticipate a classic. Rather they will see two teams resorting to safety first plans that may be content to share the spoils with a goalless 0-0
Remember this fine day at Firhill?