The manager revealed after the Livingston game that an offer has been made to Cederic Kipre and that talks were about to take place with Bira Dembele. The defenders each played for 45 minutes in the pre-season games against Stirling Albion and Livingston.
Stephen Robison said the Livingston game, "These games are about getting minutes on the park and the development of an understanding with the new players.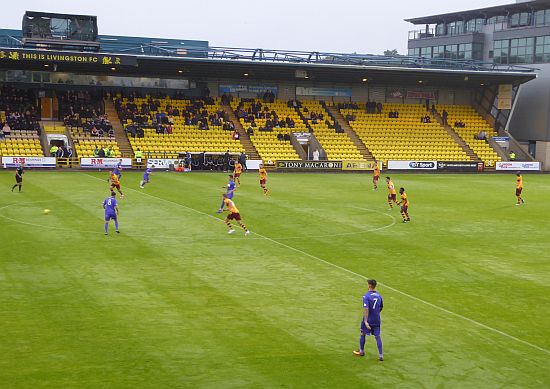 Of the new players he said, "It was the first 45 minutes for Alex Fisher and he'll get sharper and sharper. He had a good understanding with Craig Tanner. Bigi is infectious, he makes things happen. He's a very, very good footballer and again, it was his first 45 minutes and he'll get better and better.
Of the two defenders he thought Kipre was excellent, as was Dembele. "We've made an offer to Cedric (Kipre) and we're hoping to have an answer to that tomorrow (Wednesday). The circumstances with Dembele are different. He has options down south, probably on more money than we can offer but we'll sit down with him and talk. He's someone we'd like to have onboard.
The third trialist on show was Tuton and the manager agreed that none of them did themselves any harm with their contributions. Unfortunately "my budget probably won't stretch to everybody". He'll have to wheel and deal and get players out before further moves can be made.
Saturday will give another chance for players to get more time on the pitch. "There's a little bit of momentum building. We're starting to see a bit of understanding between certain pairings. We played a different system tonight than on Saturday. We don't want to be one dimensional and limited. That's what pre-seasons for, to try things and see what suits us best."
Motherwell play Gateshead on Saturday then Barrow on Wednesday before starting the Betfred Cup at Hampden on July 15.