Next Saturday sees the launch of the Official History of Motherwell FC - 'Well Again. The book will be available in the club shop and will appear, no doubt, in many Christmas stockings.
The book is in hardback and has almost three hundred pages of data about the Mighty 'Well. The authors are FPC regulars BigKeith and MrB - here's their press release. Best of luck wth the book guys!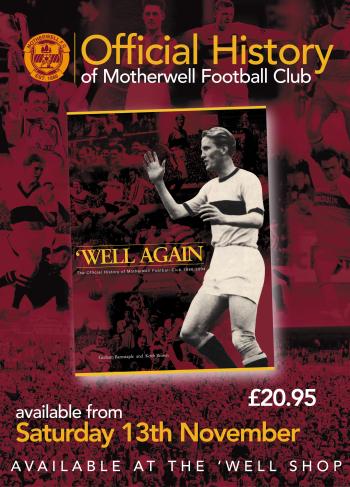 On sale in the 'Well shop from Saturday 13 November - £20.95

The book contains written text covering the formation of the club and the early years, then from the 1920s onwards a review of every season up until 2003/04. It also contains the results from every competitive game played by the club and from the Second World War it also lists every team line up, scorers, crowds etc. Tied in with this, where possible a named team photograph has been included.
Also contained in the book is a single line entry detailing the individual statistics
for every player who has
pulled on the Claret and Amber jersey since the Second World War.
The authors were delighted that they were able to include a number of photographs that may never have been seen before or at least for many years. This is thanks to the access given to private collections and scrapbooks in the preparation of the book, particularly the photographs and memorabilia belonging to Craig Brown's family, George Stevenson's grandson and former Well star of the 70s Peter Miller.


The text and statistics have been put together by two Motherwell die hards in Keith Brown and Graham Barnstaple. Both have followed the club for a combined 80 years! Both also contribute a great deal to the club in their spare time with Keith acting as a board member of the Well Trust and Graham as the Matchday Programme and Official Website Editor for the Club. They are also grateful for the help supplied by fellow supporters Ricky Mullen, James Reid and Alex Smith.


Work started on the book last March when publisher Dave Twydell of Yore Publications contacted Graham And Keith and both have been busy checking and double checking Motherwell Handbooks, Programmes, past editions of local papers, previous books about the club and Scottish football in general to make sure that the facts contained are accurate.


This type of book is ideal for supporters of all ages as for the older fans it will jog memories of magic (and tragic) moments of years gone by, and for younger fans it will help them understand what their dads and grandparents have been banging on about!