Cup Final 1991
Article by Firparkcorner
Updated Saturday, 18th May 2002
May 18, 1991 is a date all 'Well fans remember fondly. Here's the match report (again).
If anyone still had any doubts that this was to be our year they disappeared when we won the toss to play in claret and amber weeks before the game. I can still imagine a surreal scene where thousands of 'Well fans heard the news at the same time and clinch fists as one and believe we could do it.

Younger readers who are looking at Dundee Utd sitting at the bottom of the table probably don't realise the type of club they were at the time. They were a team who had been transformed for over a long time - two League Cups, a League Championship, a European Cup semi, a UEFA Cup final, numerous Scottish Cup finals and fifteen years of consecutive European football - this was a club that was used to success.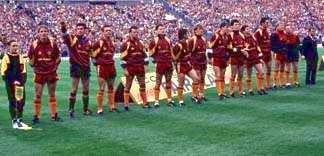 The team before the kick off.

Motherwell on the other hand, had made a couple of semi's in the 80's and hadn't won the cup for thirty nine years. The bookies had Utd as favourites but every 'Well fan knew this was our year.

This feeling was confirmed in the opening spell of the game. We made a nervy start while the opposition was composed - just like the semi final replay. The whirlwind start saw a Hamish French goal chalked off for the narrowest of offside decisions and a Freddy Van Der Hoon shot defied physics to hit the inside of the post, shoot along the goal line and go out for a bye kick. I believe it's called fate.

We managed to drag ourselves back into the game and McCart and Paterson both came close. Then came the first tremendous moment of the game - Iain Ferguson knocked the ball wide to Griffin and made a run into the box. The cross took a slight deflection and Fergie timed his run perfectly to meet the ball with a sweet header into the top corner. 1-0 and the 'Well fans were going wild.

We held on till half time and I can still remember being told that if we held on for ten minutes we'd win. Halfway through the special ten minutes, Ally Maxwell went up for a cross ball. It was a routine catch until John Clark (memorably and aptly nicknamed the human tank) clattered Maxie. Even from the other end it looked a bad clash but it later emerged he had lacerated his stomach and broken two ribs. Ouch.

The ten minutes continued to tick down and as the magic number approached I joyfully declared our impending victory. Dave Bowman obviously hadn't read the script as at that precise moment he rattled in a twenty five yard shot which slipped under our injured goalie. It was a decent hit but there is no doubt a fully fit Maxwell would have saved it.

At this point it would have been easy for the team to crack and allow Dundee Utd to seize the initiative. However, we hit back in the best possible way with not just one but two wonderful goals. The first came when Davie Cooper floated a superb free kick in from thirty yards and the ball broke across the face of goal. Everyone went for it but the Goalie's fists, someone's boot and another head couldn't prevent Phil O'Donnell throwing himself full length into the melee. There isn't a child in Scotland who hasn't dreamt of scoring a diving header at Hampden and for the 18yr old to get his first goal for the club in these circumstances was unbelievable.

The 'Well fans were bouncing when both managers decided to make tactical changes. Of the brothers McLean, Tommy got his in first. Kirk replaced Iain Ferguson but Jim made a fatal error in delaying the substitution of Billy McKinlay. Luc Nijholt played a ball towards the box and Steve Kirk used one of his first touches to cushion the ball back. Ian Angus arrived like a train unmarked from midfield and rocketed a tremendous shot into the bottom corner. 3-1, game over. At least it could have been.

If Motherwell had shown courage in recovering from the equaliser, Dundee Utd proved that they would have been equally worthy winners of the cup if luck had dealt them a better hand. John O'Neil stole in behind Luc Nijholt and powered a great header into the corner of the net. There were twenty minutes to go and Maxwell seemed to ge getting worse. The defence needed to be strong and it was - we weren't offering a lot upfront but Dundee Utd were failing to create the chances they needed.

As injury time approached, it looked as though we would hold on. Then, we made a fatal mistake. Dougie Arnott brought the ball down in the United half and rather than head for the corner he tried a risky pass to Phil O'Donnell. The ball was knocked back to Alan Main and swiftly returned downfield. I don't know what the adrenaline was doing but it was a massive kick that must have carried ninety yards. Paterson and McCart were caught square and the injured Maxwell was slow out. One bounce and Darren Jackson met the ball squarely to send the ball into the net. If such a thing was possible, I'm sure I heard dreams being shattered around me. That didn't apply to me though - I was eight and we were going to win the cup. Another half hour of Motherwell in a cup final was a joy to behold.

Part 2 is here
Interact with us