It is hard to be critical of McGhee leaving us for Aberdeen.While it may be arguable that the relative success of the Pittodrie side recently will make it hard for him to improve things, it is undeniable they are a bigger club with greater resources.If we consider his previous association with the team then it is a natural switch.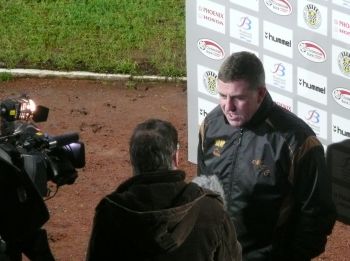 Mark McGhee on camera
Even Mark McGhee's critics would acknowledge that he did a good job at Motherwell, especially in his first season.Only three managers since Ancell have guided us to a place in the top three and McGhee is one of them - he deserves praise.


John Boyle backed McGhee with the money needed to sign players like Porter and Hughes and that may not be possible next season after the high costs of pitch and stadium repairs are covered.It is likely that we are in for a difficult campaign regardless of the choice of replacement.


The usual suspects will no doubt be linked with the post although with Scott Leitch possibly northbound the issue of his continued employment with the club has already been resolved. There will also be some surprise contenders applying from both Scotland and further afield - who would have thought Mark McGhee was available last time?


There will be some interesting days ahead.Let's hope for a good appointment and then we can return to looking forward to our European tour.The new man will have to work fast!