Since winning the Scottish Cup in 1991 Motherwell's success in national cup semi-finals has been limited to two wins in five attempts. Let's hope that the ratio improves on Sunday.
The rarity of our trips to Hampden ensures that 'Well fans make the best of those special days and the upcoming Betfred Cup meeting with Rangers this weekend will be no different.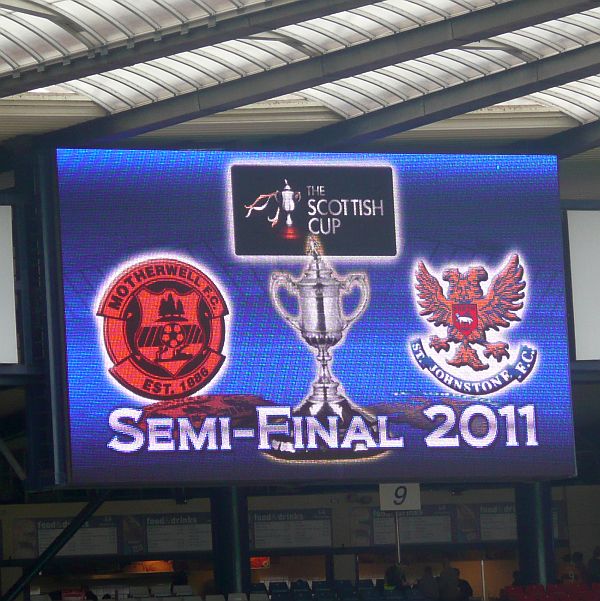 Twelve years after Tom Boyd lifted the Scottish Cup adorned with claret and amber ribbons we returned to Hampden in April 2003 for the cup semi-final. Under the leadership of Terry Butcher we lost an early goal but turned the game to lead 2-1 at half-time. The second period was a disappointment and we lost 4-3.
Memories of a wonderful night at Easter Road still burn bright for all the lucky Motherwell fans who attended the League Cup semi-final against Hearts.
The choice of the 'neutral' Edinburgh venue caused some grumbling but all that was forgotten when Marc Fitzpatrick wrote his name in our history books by scoring the winner in the last minute of extra-time. We lost in the final of the League Cup to Rangers.
A poor pass back by the usually reliable Martyn Corrigan ended our progress to the League Cup final. 87 minutes had elapsed against Celtic and the game was level. Graeme Smith had no option but to handle the loose ball and we conceded from the free kick.
Our runs in both cup competitions had us as regulars at Hampden in the first half of 2011. We started against Rangers in the League Cup semi-final but despite a rare goal from Keith Lasley we lost 2-1.
Better fortune was to be found when we returned to Hampden for the Scottish Cup semi-final against St Johnstone. First half goals from Craigan, Murphy and Sutton had the game won before the break and we cruised into the final – only to lose to Celtic.
22 October 2017
Regardless of the result on Sunday the players will have out thanks for delivering an outstanding start to the season and offering a glimpse of silverware. It's about time that we had an open topped bus touring Motherwell!