The marvellous escape in the relegation play-off masked the weakness of the squad and Ian Baraclough , employing his belief in competition for every position, wet off on a signing spree. By September he had added a dozen players to the ranks. A combination of loans, renewals and fresh faces added Ripley, Chalmers, Laing, Kennedy, Ainsworth, Taylor, Grimshaw, Clarkson, Fletcher, Moult, McDonald, Robinson and Samson to the dressing room.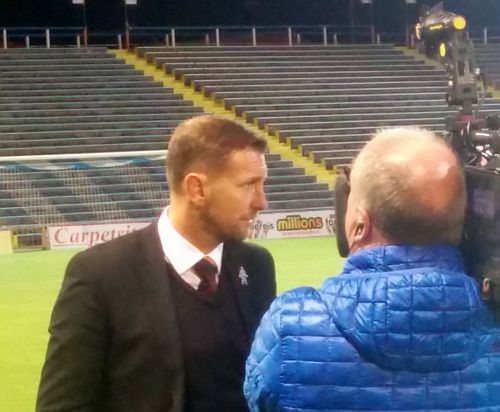 Baraclough's last interview
But the strategy failed to deliver. An opening day win in Inverness was followed by four losses before we met East Fife in the League Cup. It was clear to those who saw us squeeze past the unlucky part timers that we were in trouble and a month later following a loss to Morton in the same competition the manager was removed.
Craigan held the fort until Mark McGhee was recalled with a two and a half year contract. His appointment raised mixed feeling from supporters but with the backing of owner Les Hutchison he spend the next several weeks exploring the squad to determine the strongest eleven.
There was a definite sense of déjà vu as his team took shape. Lasley, Hammell, McDonald, Clarkson and McFadden had been regulars in McGhee's first spell at the club and in combination with Ripley in goal, McManus in defence and Moult and Johnson in attack we had the basis of a team that could make progress. Hall and Cadden were promoted from the U20 ranks and the mixture was complete.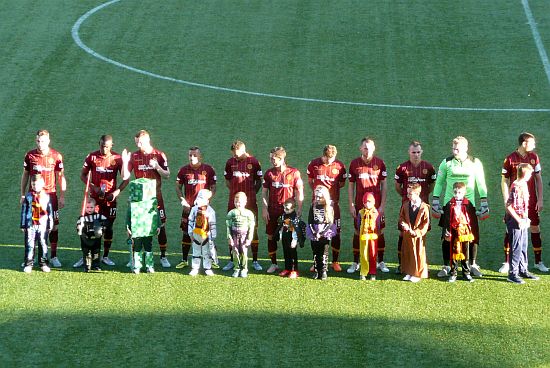 Halloween at Rugby Park
The festive season brought a three game winning streak that included a rare win at Parkhead. Moult's double delivered the 2-1 win and the notable achievement of making Motherwell the only team to beat Celtic at their home ground during their championship winning season.
Other significant events included Lasley's testimonial warm-up against Bolton and the marking of Joe Warks passing. The warm applause was an indicator of the place he holds in Motherwell's history.
The Society continued to make slow progress to the self imposed targets and there was some concern about the repayment schedule of the les Hutchison loan.
The year ended with us in good spirit with signs that the manager had figured out how best to use his resources but we were firmly in the bottom half of the table with the spectre of the play-off position never far from our minds.