The first half of the year will long be remembered for the successful and entertaining football served up from a side that grew in self-belief with each passing game. Michael Higdon broke Willie Pettigrew's 37 year old scoring record with 27 goals and his achievement was marked with what turned out to be the last SPL Player of the Season award. This impressive feat was in large part supported by the service offered by Ojamaa, Law and Humphrey but the entire squad deserve a place in the Fir Park history books as we recorded a rare second place finish in the league.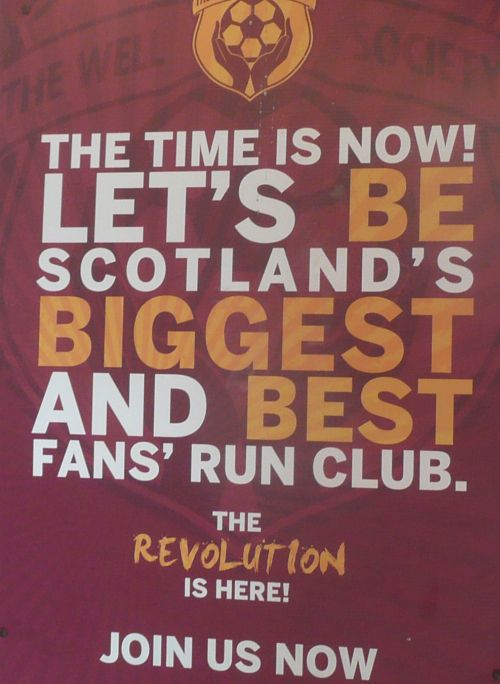 The loss of Murphy after he captained the team at Parkhead was countered by the signing of McFadden in mid-February. After a rusty start Faddy provided the spark that ensured a successful end to 2012/13.
The financial mismanagement at Ibrox and the proposed plans for league reconstruction prompted many hours of debate. The fans were given an couple of opportunities to swap views with the club before the SPFL was born.
Our manager was appointed as an assistant to Gordon Strachan in January and in March he agreed a two year extension to his Fir Park contract. He was named Clydesdale Bank manager of the year and his name was regularly linked with vacancies all over the country. Sheffield United's interest caused him to cut short his holiday but he declined their offer.
Randolph at the Open Day in May
The inevitable consequence of our success was the departure of a number of key players. Randolph, Law, Humphrey, Higdon and Ojamaa moved on but there were signs that the some of our younger players might step up. Craig Moore won the March POTM award when on loan to Cowdenbeath and Lee Erwin joined the Scotland U!9s on a trip to Serbia.
The atmosphere at Fir Park improved as the Well Bois grew in voice. Their visual displays, songs and chants grew as team racked up the points and a new fanzine was launched to add a further voice. Highlights on the pitch included two home wins against Celtic, a Higdon hat trick in a 3-0 win against St Johnstone , a spectacular demolition of Hibs (4-1) and a run of six wins and two draws to lead us to our highest finish for twenty years.
The final home game of the season (a 2-0 win against Ross County) ended with a parade of players and many of their children in a celebration not only of the team's success but of the close bond that has grown up between the club and supporters. The Well Society now had two directors at the top table and the move towards fan ownership was on track.
The close season began with one eye on the July draw for the Europa League and the other on the empty hooks in the changing room - who would fill them?