After a three week January break play resumed with a Scottish Cup tie at Ibrox. Many suspect that the fallout from that game caused our season to swing from bad to worse.
A big 'Well support raised the roof when Moult gave us the second half lead. We had 15 minutes to resist and gain a historic victory. Rangers equalised with six minutes remaining and we lost the game four minutes later. The ashen faced manager described the final goal as "ludicrous" and we embarked on a downward plunge.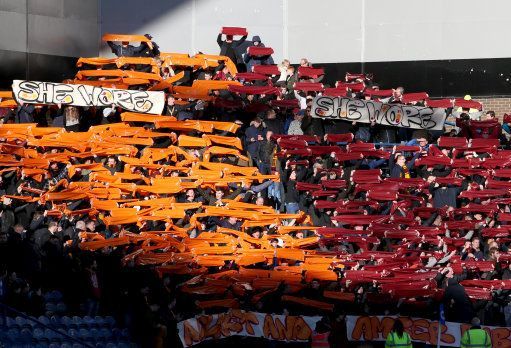 A fine show at Ibrox
A midweek win in Dingwall was the only light in a spell of five league defeats. In that dreary run were a 7-2 loss to Aberdeen and a 5-1 home defeat to Dundee that proved to be the final straw. With the prospect of a relegation play-off looming ever larger and growing unrest in the stands the combined view of the Society and club boards was that McGhee had to go. Stephen Robinson, newly returned only a fortnight earlier as a surprise first team coach, was to look after the team meanwhile.
A pre-game parley
He was fortunate that our next league game was at Rugby Park. Over the season we were to take 10 points against Kilmarnock. Given that our 38 game total was 38 points, the 10 from Killie and the 8 against Hamilton produced almost half our total.
Mark McGhee had brought Frear, Jules and Griffiths to Fir Park before his departure in February.
Les Hutchison provided a boost for the fan owned club when he agreed to match the Well Society's income in a 'Double Your Money' initiative that was to last until the year end.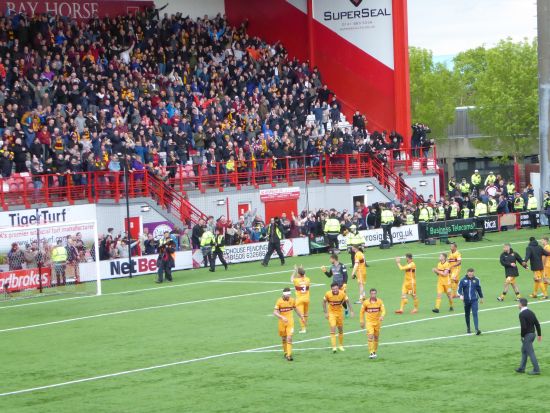 Relief beyond belief
Our struggling squad had enough self-inflicted worries to endure but they had to overcome some poor decisions by the officials. On three separate occasions (twice against Dundee and once against Hamilton) we had the ball legitimately over our opponents goal line only to see play carry on. Calls for the introduction of video technology followed.
Two wins in the bottom six pulled us up to ninth place. The win at New Douglas Park was watched by 2,340 Motherwell fans and the 1-0 result was greeted with huge celebration. It was an awful game and the result could easily have gone the other was but that hardly mattered. We were on our way to the 33rd consecutive campaign in the top league.