On the playing side of the club Stuart McCall managed to drive the squad to a final day showdown at Pittodrie knowing that a win would see us 'best of the rest' for the third season in a row. Reid's last gasp goal cued wild celebrations and ensured that McCall's achievements would have him listed among the most successful 'Well managers.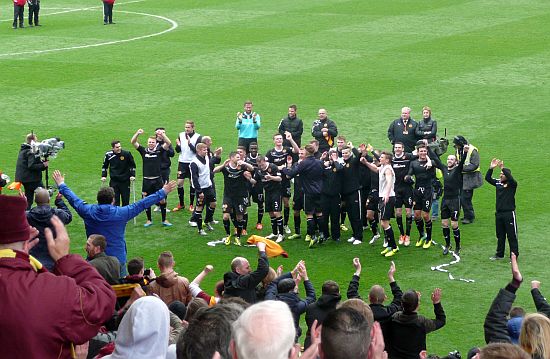 How good a day was that?
We stared the year buoyed by a six game winning streak that ended with a loss at Parkhead in mid January. Goalkeeping injuries resulted in an emergency loan for Dan Twardzik from Dundee and his excellent service in that run was to earn him the number one jersey the following season.
A draw with Aberdeen followed thanks to a late goal handled over the line – pay back was to come in spectacular fashion. The sad loss of Andy Paton was marked as we beat Partick Thistle 4-3 in a thriller at Fir Park. We qualified for the Europa League with ease and held third place in the table for weeks on end. The last match of the season turned out to be a playoff for second place.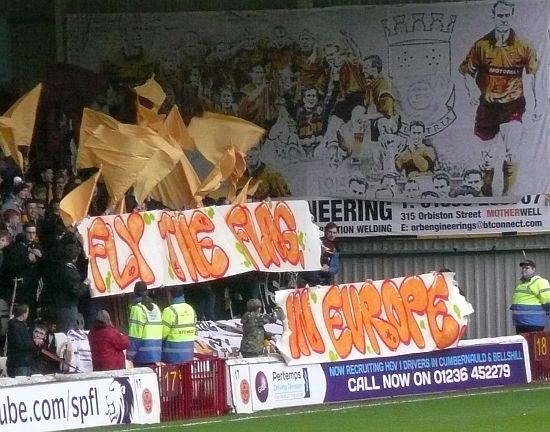 The Well Bois grew in strength
More than 17,000 packed into Pittodrie and all but a few hundred in the away stand anticipated a party. It was a grim one sided affair that looked like it might peter out as a goalless draw until we were awarded a late, late free kick. Sutton flew at the ball, the 'keeper failed to collect and it fell to Reid get it over the line. The goal was awarded and we had won the game. It was a win that will remain in the Motherwell collective memory for years.
Other notable happenings in the first half of 2014 included Stevie Hammell's 500th appearance, the 100th and final edition of One Step Beyond, the departure of the well respected chief executive Leeann Dempster to Hibs and the appointment of Alan Burrows as general manager.
In May the club issued a financial statement that underlined our financial difficulties. There were losses in excess of £800,000 that had mounted up in the previous three seasons and the Well Society was urged to step up its fundraising to safeguard the aim of transferring ownership.
Captain Lasley was given a two year contract and the Europa League draw revealed a clash with Stjarnan from Iceland. The close season ended for the playing staff well before the end of June and a training camp was held in Portugal.
The new season would bring new challenges. How would we fare?
Part 2 here