There's no talk of a need for a winter break at Fir Park as with every win confidence grows and the games can't come soon enough.
The marvellous streak started on December 14 when the team shook off the twin horrors of the cup loss to Albion Rovers and the 5-0 loss to Celtic with a fine win in Dingwall. Two first half goals from Sutton were the least that our first half domination deserved and although Ross County had the better of the second period we had steadied the ship and came home with three points and much relief that a third consecutive loss had been avoided.
St Mirren were outclassed at Fir Park when goals from Ainsworth and a pair from Anier sent us into the busy holiday schedule in good heart. Both scorers were on loan and their form had the manager talking publically about his hopes that they could stay with us after the January transfer window.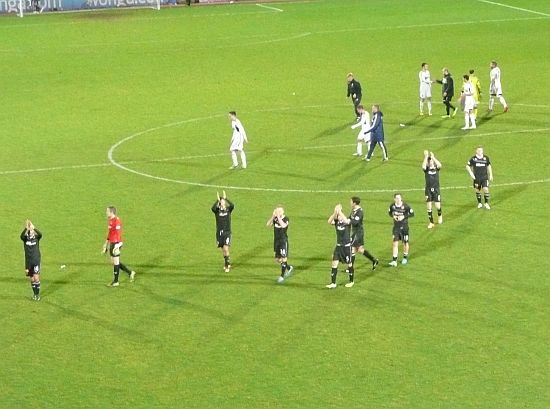 The winners at Tynecastle
We faced a big test at Pittodrie. Aberdeen were in good form and they had already beaten us twice on our home ground. But a lung bursting 80 yard break from Anier ended with a perfect pass that allowed Ainsworth to give us the lead early in the second half. We withstood the determined efforts seeking the equaliser and, for the first time in the season, beat a first six competitor.
Next came the first visit to Firhill in almost a decade. It was a strange game. We conceded the opener but then took every chance that was on offer to rack up a 5-1 win. Lasley, Francis-Angol, McFadden, Ainsworth and Sutton all scored and the run was extended to four.
Ne'erday brought St Johnstone to Motherwell for the first time but after the initial friendly handshakes we showed little goodwill to our visitors. On this occasion Sutton, Vigurs, Ainsworth and McFadden shared the goals. Dan Twardzik had played in all five games and had delighted us with his performances. Few fans knew what to expect from the emergency loanee who was drafted in from Dundee but he can be proud of his contribution to the historic winning sequence.
Win number six came at Tynecastle. Sutton scored against his former team just before the break and we resisted the energetic attempts at a come-back. It was mot the most impressive win in the sequence but it forced a hunt into the dusty pages of the record books to determine that a six game winning run in the top flight had not occurred sin season 1936/7.
The players and management should be proud of their achievement and who knows – they may discover that lucky number seven awaits at Parkhead next Saturday!
Have your say on the messageboard.